What's the most important Christian festival? Probably Christmas, celebrating the birth of Christ. And what happens at Christmas? Christians get together with their families, shop a lot, eat a lot and pray for peace on Earth and goodwill to all men (and women and LBGT of course).
What's the most important Religion of Peace (RoP) festival? Probably Ramadan, celebrating Allah revealing the Koran to the Prophet.
And what happens during Ramadan? Lots of fasting, praying, screaming and shouting and a ramping up of Jihadi mayhem and murder.
In an average month, there are around 125 religiously-motivated RoP attacks (4 a day) in 21 countries killing 770 innocents (26 a day) and injuring 1,279 innocents (43 each day).
But things seem to hot up a bit in Ramadan as RoP fervour hits new heights. In the first nine days of 2016's Ramadan, there have been about 8 attacks a day (double the normal average of 4), 68 people killed a day (two and a half times the normal average of 26) and over 66 injured (150% of the normal average of 43):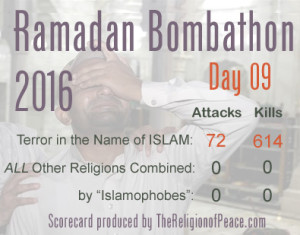 So, not only are there many more religiously-inspired attacks during Ramadan, but they also seem to be more deadly.
At the same time there have been no such attacks by any other religion and no victims of the supposed scourge of *ls*mophobia that our rulers are always warning us about.
Judging from these figures, I would humbly suggest that not all religions are the same and that the Third World War is coming our way.
Here's what our friends from the world's most peaceful religion have been up to during the first 9 days of their holy month of Ramadan. Expect an awful lot more fun and games before Ramadan ends and things settle down to the normal level of slaughter and chaos:
| Date | Country | City | Killed | Injured | Description |
| --- | --- | --- | --- | --- | --- |
| 2016.06.13 | India | Kud | 1 | 6 | Muslim militants open fire from a bus, killing a woman and injuring a child. |
| 2016.06.13 | France | Magnanville | 2 | 1 | A terrorist stabs a couple to death while shouting praises to Allah. |
| 2016.06.12 | Cameroon | Darak | 42 | 0 | The bodies of forty-two fishermen are found a few days after they were captured by Boko Haram. |
| 2016.06.12 | Libya | Sirte | 3 | 7 | A suicide bomber detonates at a hospital, taking three others with him. |
| 2016.06.12 | Philippines | Samal Island | 1 | 0 | A Canadian hostage is beheaded by Abu Sayyaf. |
| 2016.06.12 | USA | Orlando, FL | 49 | 53 | An Islamic extremist massacres forty-nine people at a gay nightclub. |
| 2016.06.11 | Syria | Sayyida Zeinab | 20 | 30 | A double suicide bombing outside a Shiite mosque leaves at least twenty dead. |
| 2016.06.11 | Afghanistan | Haska Mena | 6 | 11 | At least six are left dead after Islamic State members fire into a police station. |
| 2016.06.10 | Egypt | Rafah | 1 | 0 | A young police recruit is cut down in the prime of life by Islamic radicals. |
| 2016.06.10 | Iraq | Baghdad | 3 | 11 | A Shahid suicide bomber takes out three other souls. |
| 2016.06.10 | Iraq | Fallujah | 30 | 0 | Islamists spray machine-gun fire into a crowd of women and children trying to flee the caliphate, killing at least thirty. |
| 2016.06.10 | Syria | al-Zahraa | 1 | 6 | A civilian is killed when terrorists send a rocket into a home. |
| 2016.06.10 | Syria | Aleppo | 3 | 15 | A young girl is among three civilians aerated by Sunni shrapnel. |
| 2016.06.10 | Syria | Ghandoura | 37 | 0 | ISIS members massacre at least thirty-seven villagers, including women and children. |
| 2016.06.10 | Nigeria | Mairari | 4 | 0 | Islamists drag four women out of their homes and slit their throats. |
| 2016.06.10 | Somalia | Bula Fulay | 4 | 0 | A pro-Sharia group beheads one man and shoot three others. |
| 2016.06.10 | Pakistan | Lahore | 3 | 1 | A young couple are honor killed for marrying against their family's wishes along with a friend who helped them. |
| 2016.06.10 | Bangladesh | Dhaka | 1 | 0 | A 62-year-old Hindu monastery worker is hacked to death by Religion of Peace proponents. |
| 2016.06.09 | Iraq | Mosul | 1 | 0 | A woman is stoned to death in front of a mosque for adultery. |
| 2016.06.09 | Iraq | Kirkuk | 1 | 5 | A mother is killed by an IS IED while leading her family out of the caliphate. |
| 2016.06.09 | Iraq | Baghdad | 19 | 46 | A Sunni suicide bomber targets a commercial district in a Shiite area, killing nineteen. |
| 2016.06.09 | Iraq | Taji | 12 | 32 | A dozen Iraqis are sent to Allah by a Shahid suicide bomber. |
| 2016.06.09 | Somalia | Halgan | 43 | 0 | Dozens of AU peacekeepers are massacred during an al-Shabaab suicide assault. |
| 2016.06.09 | Syria | Meydan | 5 | 50 | At least five are killed when al-Nusra deliberately shells a civilian area. |
| 2016.06.09 | Pakistan | Changa Manga | 0 | 1 | A Christian man is badly beaten by a Muslim mob for selling food deemed 'unclean' because of his religion. |
| 2016.06.09 | Syria | Handarat | 1 | 8 | A Sunni rocket claims the life of a child. |
| 2016.06.09 | Iraq | Wilayat Salahuddin | 1 | 0 | A man is beheaded for sorcery by the caliphate. |
| 2016.06.08 | Iraq | Hanbas | 3 | 3 | An ISIS bomb blast lays out three Shiites. |
| 2016.06.08 | Libya | Abu Grein | 25 | 32 | Over two dozen defenders are killed during an ISIS assault on a small town. |
| 2016.06.08 | Libya | Buairat el-Hassun | 7 | 18 | An ISIS car bomb claims seven lives. |
| 2016.06.08 | Pakistan | Lahore | 1 | 0 | A 17-year-old girl is burnt alive by her conservative mother for eloping without permission. |
| 2016.06.08 | Israel | Tel Aviv | 4 | 13 | Muslims disguised as Orthodox Jews fire into a food and retail market, killing four patrons as they praise Allah. |
| 2016.06.07 | Afghanistan | Sokhti | 11 | 12 | Eleven local security personnel are killed during a Taliban attack. |
| 2016.06.07 | Afghanistan | Ghazni | 12 | 50 | The Taliban stop vehicles along a highway and massacre a dozen occupants. |
| 2016.06.07 | Iraq | Khazar | 5 | 0 | Five displaced persons are further removed by ISIS bombers. |
| 2016.06.07 | Iraq | Haditha | 2 | 0 | Two female factory workers are disassembled by a Fedayeen suicide bomber. |
| 2016.06.07 | Bangladesh | Jhenaidah | 1 | 0 | A 69-year-old Hindu priest is hacked to death by Islamic radicals. |
| 2016.06.07 | Iraq | Karbala | 7 | 20 | A Sunni suicide bomber produces seven dead Shiites at a commercial area. |
| 2016.06.06 | Jordan | Amman | 5 | 0 | At least five employees are killed in their office by Islamic militants. |
| 2016.06.06 | Iraq | Baghdad | 2 | 11 | Jihadis bomb a local market, killing two patrons. |
| 2016.06.06 | Afghanistan | Sari Pul | 7 | 0 | A child is among seven gunned down by Taliban fundamentalists. |
| 2016.06.06 | Yemen | Khormaksar | 1 | 0 | A civilian is killed when Muslim extremists fire on an airport. |
| 2016.06.06 | Iraq | Fallujah | 4 | 0 | Four civilians are tortured to death by a Shiite militia. |
| 2016.06.06 | Yemen | Taiz | 8 | 13 | Shiite shells kill eight family members, including three children. |
| 2016.06.06 | Nigera | Adamawa | 4 | 0 | Four farmers are murdered by Boko Haram. |
| 2016.06.06 | Egypt | Sadwet | 1 | 0 | A young policeman is shot to death in the name of Allah. |
| 2016.06.06 | Thailand | Narathiwat | 3 | 2 | Two villagers are shot point blank by Muslim terrorists. |
| 2016.06.06 | Iraq | Mosul | 11 | 0 | Eleven people are executed in front of their families for trying to flee the caliphate. |
| 2016.06.06 | Iraq | Mosul | 65 | 0 | Sixty-five civilians, including university students, are rounded up and executed by caliphate staff. |
| 2016.06.06 | Cameroon | Darak | 10 | 0 | Ten fishermen are cut down by Boko Haram. |
| 2016.06.05 | Pakistan | Sachal Goth | 3 | 0 | Two Hindus are among three slain at a liquor shop by members of a banned terror group. |
| 2016.06.05 | Somalia | Mogadishu | 1 | 0 | A female journalist is assassinated by al-Shabaab outside a college campus. |
| 2016.06.05 | Pakistan | Attock | 1 | 0 | A 65-year-old Ahmadi religious minority is gunned down. |
| 2016.06.05 | Afghanistan | Puli Alim | 7 | 23 | Islamic hardliners with suicide vests storm a courthouse and murder seven workers. |
| 2016.06.05 | Iraq | al-Mahouz | 3 | 0 | Three civilians are beheded by the Islamic State. |
| 2016.06.05 | Bangladesh | Chittagong | 1 | 0 | A woman is murdered in her home by religious radicals. |
| 2016.06.05 | Syria | Aleppo | 2 | 27 | Two people are killed when Islamists target a church with rockets. |
| 2016.06.05 | Bangladesh | Natore | 1 | 0 | A Christian man is hacked to death at his shop by Islamists. |
| 2016.06.05 | Afghanistan | Kabul | 1 | 0 | An NPR journalist and his translator are picked off by Taliban snipers. |
| 2016.06.05 | Kazakhstan | Aktobe | 6 | 3 | Islamic radicals murder six people in two separate attacks. |
| 2016.06.05 | Afghanistan | Kabul | 3 | 3 | Fundamentalists set off a bomb outside a house that leaves three dead. |
| 2016.06.05 | Iraq | Abu Ghraib | 3 | 7 | A Jihadi bomb blast ends the lives of three people at a market. |