Over the last couple of days, you probably received a leaflet from the Remainians campaign in which nine wealthy establishment stooges tell us why we pig-ignorant, servile plebs must vote to stay in the corrupt, undemocratic, German-run European Union which they all love so much.
Here are the nine with their lies and my brief explanation how they are lying: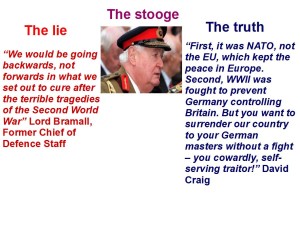 Then there's Karren Brady claiming "Britain can create more jobs in Europe". First, Ms Brady seems confused about the difference between a continent (Europe) and a rotten political stitch-up (the European Union). Moreover, what Ms Brady doesn't mention is that 70% of the jobs Britain creates are taken by unemployed EU citizens and that, if Britain hadn't mopped up millions of unemployed EU citizens, there would already have been riots and social breakdown across the bankrupt, stagnating Club Med countries.
And Mark Carney former Goldman Sachs employee and now Governor of the Bank of England. That would be the Goldman Sachs which earned millions cooking Greece's books to make it look like Greece qualified to join the Euro – and now we in the UK are paying billions to bail Greece out.
And finally some ugly old harridan from the TUC, happy to see her members' incomes squeezed through uncontrolled EU immigration as she has a big salary and generous pension so her precious job isn't threatened by mass immigration – the usual "I'm alright Jack!" attitude from those who so lucratively claim to be representing ordinary workers.
Don't believe the pro-EU stooges' lies and lies and lies. Vote OUT on 23 June!