(Weekend blog) A slightly different subject today. But hopefully today's blog will help readers or people they know save a couple of hundred quid. Then they can use the money they save to make a small donation to the running costs of this website by just clicking on the "Donate" button up on your right of the screen.
A couple of weeks ago, I decided to have a new eye test and, if necessary, buy some new glasses. So, of course I went to Specsavers as the Specsavers ads suggested. (Me, influenced by advertising? Oh dear). Anyway, it seemed a wise move as Specsavers were running a BOGOF (Buy One Get One Free) promotion. So, I could get a pair of normal glasses and a pair of sunglasses for the price of only one pair of glasses. Plus the eye test was free.
So, I had my free eye test and found that my eyesight had improved slightly. (I'm shortsighted, but apparently with age many people's eyes start to become more longsighted, thus slightly reducing shortsightedness). Then I went and ordered my new glasses with varifocal lenses plus my free pair. The whole thing started off at around £400 but with the BOGOF reduction finally came out at only £198. Yippeee! I had saved lots of money. Clearly going to Specsavers was a terrifically good idea.
Two days ago, I went to collect my new glasses and was surprised to find that, in spite of the fact that my eyesight had slightly improved, the lenses were twice as thick as my previous glasses which I had bought from Asda's in-store opticians. When I questioned the Specsavers shop assistant about this, she explained that if I wasn't happy with my new glasses, she could have the lenses replaced with special thin lenses for either £40, £60 or £90 a pair depending on how thin I wanted the lenses.
I decided to go for the medium thin lenses at £60 per pair of glasses which would have brought the total price of my new glasses to £318. Then I started to wonder. It seemed to me that £318 for one pair of glasses (remember, the second pair were supposedly 'free') was slightly high. So, I told the shop assistant to hold my order while I popped round to Asda to see what they could offer.
At Asda, I handed over the results of my eye test and found that I could buy pretty much exactly the same glasses as Specsavers were offering for £70 and, if I wanted a second pair (for example sunglasses), the total cost would be just £99. Yup, £99 for two pairs of glasses – one for normal daily use and one pair of sunglasses. Plus Asda offered ultra-thin lenses and anti-glare coating free: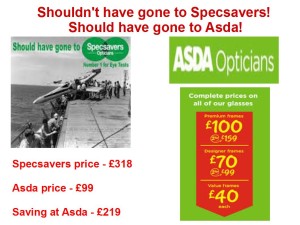 Fortunately Specsavers have a 'no quibble' guarantee that, if you're not happy with your glasses, you can refuse to take them and you get a full refund. So, I cancelled my Specsavers order, got my refund and bought my two pairs of glasses with ultra-thin lenses (just like the previous two pairs I bought a couple of years ago from Asda) for just £99 from Asda. That saved me £219.
So, the moral of this little tale should be clear – Shouldn't have gone to Specsavers! Should have gone to Asda!