Today, I'd like to bring you an almost heartwarming story from Britain's much admired (by whom? ed) charity industry.
Here, from Scotia Aid's website is how the charity explains its mission:
"Scotia Aid – Sierra Leone was launched in May 2010 by a small team of businessmen with the mission of creating maximum impact upon the numbers of children, whose lives are controlled by the streets. We work directly with children in their own environment towards reunification with their families, reintroduction to education and the creation of a sustainable home-life for their on-going upbringing".
The three heroes who set up this supposed 'charity' managed to raise £790,899 in 2012/13 and a more impressive £1,020,365 in 2013/14.
Ok, this not a huge amount. But a million pounds can do a lot of good in a country like Sierra Leone where the GDP per capita is $340 (£220) a year and 72% of the population live on less than $1 a day, which is the commonly-used definition of 'extreme poverty'.
At least, the money raised could have done a lot of good had much of it ever reached Sierra Leone. Sadly (for those the charity was meant to help) a mere £137,819 – just over 13p in every £1 raised – seems to have gone on what most of us might call 'good causes'. So where did the rest go?
Well, the three selfless saints who set up this charity paid themselves £312,958, up from £197,227 the previous year. So the three founders of this 'charity' pocketed for themselves more than twice as much as they used for charitable purposes. The top earner at this £1m 'charity' got £116,931. To put this into context, the head of the 5,000+ employee £368m-a-year Oxfam got a mere £109,000. The second best paid took £103,927 and the third of this lucky trio had £92,100 pushed into his bank account making him better-paid than the head of the £59m-a-year Action Aid.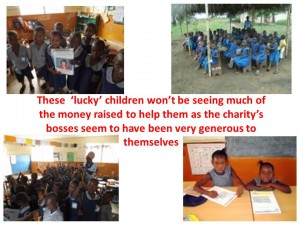 But these three didn't pay this money to themselves as salaries. Otherwise they might have been subject to income tax of up to 50%. Ouch. Nope. Instead they paid this money to "shell" companies as consultancy fees so the maximum tax would be corporation tax at just 20%. All the so-called "shell" firms have reportedly been registered to the address of the charity's accountant.
Where else did the money go. Well there were £43,751 in expenses plus another £105,720 in 'logistics and travel expenses'. There was also £113,975 in 'telemarketing' costs, possibly paid to a company owned by one of the charity's founders. And we mustn't forget the £12,387 in motor expenses and the £2,105 entertainment costs
One former employee said said: "I left the charity when I became concerned about the way Dan was running it. It was all nights out, huge restaurant bills and big cars".
Another commented: "The public need to know what is being done under the auspices of charity. They spend their money on a fancy lifestyle and fast cars. Helping people is the last thing on their minds".
So, if you wanna get loads of money, travel in style to exotic countries and party at someone else's expense – (here it was at the expense of impoverished children in Sierra Leone) – then set up a charity.
Plus, in addition to trousering a fortune for yourself, you might even get a gong or a knighthood or some other honour for your charitable work.
You can't lose. Set up a charity! You know it makes sense!