The politically-correct were up in arms a couple of weeks ago when Dopey Dave  described over a million immigrants swarming into Europe as a 'swarm'. And, of course, rent-a-gob Katie Hopkins was lambasted when she referred to the migrants as 'cockroaches'.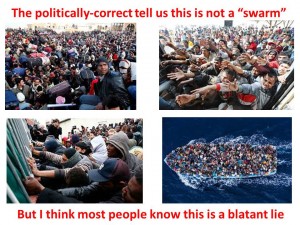 As for the constant claims of the BBC and the preachy, self-righteous, professional hand-wringers that many migrants are highly educated and will contribute to our economy. Well here's a short YouTube video of Eritreans and Sudanese migrants fighting each other in Calais:
https://www.youtube.com/watch?v=zahQq016F14
And here's another one of Syrians and Afghanis fighting at a refugee camp in Germany:
https://www.youtube.com/watch?v=6DN1MMZZgD8
An ignorant idiot like myself might be tempted to conclude that the words 'swarm' and 'cockroaches' aren't strong enough. So how about suggesting that 'a deluge of human (largely *sl*mic) effluent' is pouring into Europe?
As for our rulers, they're so cowardly that they they seem impotent in the face of the greatest threat to European civilisation since the Germans' last attempt to conquer our continent  – the coming *sl*mic attempt to conquer Europe could be much more bloody than the Nazis' efforts.
If civil war does break out in a European country within the next 20 to 30 years, I wonder whose side the military will be on? Will the military support those fighting to preserve the remnants of our civilisation? Or will they suppress those trying to prevent the *sl*mic conquest?
It will be interesting to see.