With the (I believe undeserved) demolition of Cleggy and his LibDems in the May 2015 general election, my book "GREED UNLIMITED How Cameron and Clegg protect the elites while squeezing the rest of us" has become rather redundant.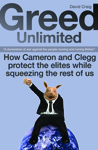 I sold rather fewer copies than expected and I was going to bin the remaining copies. But I'd rather they were used than pulped.
So if any readers want one or more free copies, you're welcome to have them if you'll just pay for the postage.
If you're connected to any college or club or school that could use some copies, then I can send you any quantity you wish – 20, 30, 40 or whatever. Or if you just want one or two copies, then I could do that as well.
Here's what I propose: If you'd like one or more free copies, just go to the donate button on my snouts-in-the-trough website and donate the appropriate amount to cover postage costs. Then send me an email to david.craig54@yahoo.co.uk telling me how much you've donated, how many copies you want and the address to send them to.
You should then receive your copies within 3 to 4 days.
Here are the estimated postage costs:
1 copy  – £2.50
2 -3 copies – £3.00
4 – 20 copies – £11.00
21 – 40 copies – £16.00
41 – 60 copies – £21.00
60 – 100 copies £35.00