A message to everyone in Africa – COME TO BENEFITS BRITAIN! You'll really like it here!
1. An immigration policy that is open to every low-life on the planet
Are you a thief, a rapist, a murderer? Don't worry you're still be welcome in Britain and human rights lawyers will ensure you'll never get thrown out, whatever crimes you commit
2. You can bring in all your relatives
Do you think you might miss your extended family of 15 brothers and sisters, 30 uncles, 50 grandparents etc? Don't worry. After a couple of years in Britain you'll be able to bring them all to Britain where they'll be well looked after thanks to the vast number of benefits you and they can claim
3. A Benefits System that is almost a licence to print money
Don't fancy working? Don't allow your wife to work because you're a M*sl*m? Don't worry. British taxpayers will give you so much money for yourself, your family, your housing and your holidays that you'll be able to live very comfortably indeed and still have plenty of money left over to send to any relatives still in Africa
4. Britain gives immigrants the best housing
Do you value having somewhere nice to live? In Britain you'll get priority for the best council housing in preference to indigenous white people who may have been on the council house waiting list for years
5. A PC Brigade that seems determined to press the self-destruct button
Concerned about being discriminated against in Britain? Don't worry. In Britain, political correctness means that the only people discriminated against are the indigenous white population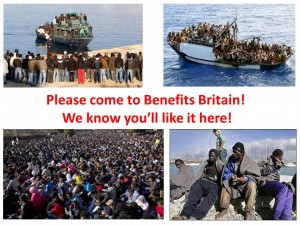 6. An indigenous population who are never consulted on immigration
Afraid that the British people might try to stop immigration? Don't worry. None of the main political parties in Britain will ever give British people the opportunity to vote on whether or not they want unlimited, open-door immigration
7. A Government and Police who ignore the abuse of our children
Do you enjoy gang-raping and gang-sodomising young girls? Well then, Britain's the place for you. In Britain, raping, torturing and sodomising indigenous white girls is absolutely permitted by leftie, pro-immigrant police and authorities. Wanna party hard? Britain's the best
8. An NHS system free to anyone suffering from a cold to Bubonic Plague
Do you already have some ghastly medical condition – aids, TB, dengue fever? If so, they'll look after you in Britain. Completely free of charge. And, being an immigrant you'll get priority over the indigenous white population as NHS staff will be terrified of being accused of racism
9. A Government who regard anybody who's white as a semi-racist
Talking of racism. If you ever have a problem with a white person – maybe you want to rob them or beat them up or extort money from them – don't worry. If the police get involved, you can just accuse the white person of racism and they'll be the one who gets into trouble
10. Britain is becoming an overcrowded, Third-World hell hole
Are you concerned you might miss the crowded, garbage- and excrement-strewn slums of Africa? Rest assured, you'll feel at home in Britain which is becoming more like a stinking, festering, Third-World hell-hole with every day that passes
So, come here! Enjoy your stay!
And don't forget to tell all your relatives and friends what a great time you're having here!
It's not called 'Great' Britain for nothing!