Former lawyer, MP and alleged botherer of underage botties, Lord Greville Janner, has for the fourth time escaped prosecution for child sex offences. Well, done Greville! You're a star! Maybe they should make a film about your life and call it "The Great Escapes"?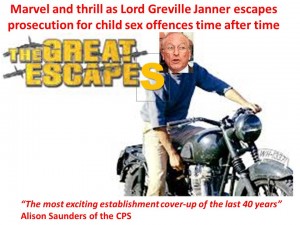 I'm not a lawyer like Mr Janner. But here are a couple of possibly relevant facts:
1. Janner and his family claim he was first diagnosed with dementia in 2009. Despite that, Janner has bravely claimed around £100,000 in expenses for attending the House of Lords since the onset of his 'dementia'. So he clearly could remember enough to get down (no doubt in taxis paid for by us) to Westminster several days a week to get his snout in the trough of our money.
2. In April 2014, just at about the same time as the Crown Prosecution Service (CPS) began its 12 month deliberation over whether to prosecute Janner, Janner had written to the House of Lords clerks indicating that he did not wish to cease being an active peer.
"I rest my case" – isn't that what lawyers say when they believe they have proved their accusation?
I also note that one of the fiercest defenders of Janner's supposed "integrity" was none other than Keith "Vazeline" Vaz, a man also much admired for his many escapes from justice: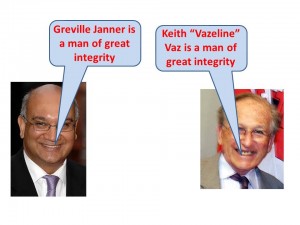 Still, now that the CPS has decided to let Janner off the hook yet again, hopefully he'll make a miraculous recovery from his incurable illness and we'll never hear which other members of the Establishment were involved with Janner's alleged fresh young underage botty-bothering.