As regular readers will know, I've started writing a new book, possibly called THE GREAT CHARITY SCANDAL exposing the massive waste of Britain's almost unbelievably huge charity industry. I don't yet know if any publisher will take the book or whether I'll have to resort to something like crowdfunding to get the book out.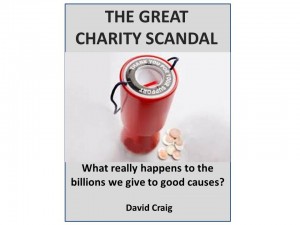 Although, given how few people bought my last two books GREED UNLIMITED and DON'T BUY IT! perhaps I'm wasting my time and should just go on holiday instead? Though that would be a pity as someone needs to expose the scandal of Britain's greedy, monstrous, over-sized, self-serving charity industry.
Anyway, as I've written previously, Britain has more than 195,289 charities. In my humble opinion, that's at least 150,000 too many. So I decided to look at the stated aims of 6 of our 'best-loved' charities, almost all of which are really quite generous to their bosses with the money the public donates in the misguided belief that most of this money will actually be used for real 'charitable activities'.
Here are what those 6 charities state as their aims (as usual, click on picture to see more clearly)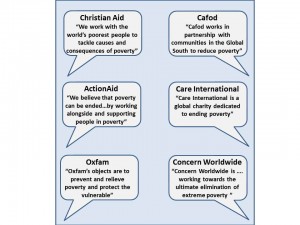 Oh look! They all seem to be doing pretty much the same thing. What a surprise! Who would have thunk it? And these are just the top 6 poverty charities. There are almost 100 more smaller charities also bravely tackling poverty with our money.
So, do we really need all these charities, all with their executives and managers and fundraisers and communications experts and expensive campaigns and chuggers and door-to-door collectors and charity shops and offices and computers and smartphones and generous expense accounts to fly round the world to visit the poor and so on and so forth?
My answer – no!
Though, if you want to save all these charity bosses and managers (many of whom couldn't get a job in any normal company) from poverty, please keep on giving. The Lords of Poverty need your money to keep them in the style to which they have become accustomed.