Recently I've been researching and starting to write a book THE GREAT CHARITY SCANDAL aimed at exposing the lies, greed and waste in Britain's bloated 195,000-strong, 950,000-employee charity industry.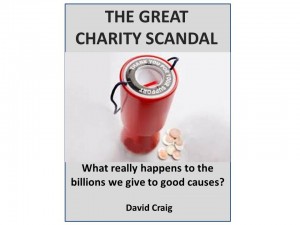 Now I've got my agent's reader's report on my book proposal – it's not hugely complimentary:
"The sample material is rushed and under-researched, often illogical, and crucially with no sense that he plans to do any of the real detailed research that this requires. Too much of it is guesswork, plus irrelevant asides about immigration, the EU, etc. Another concern is that his total of charities surely includes all kinds of worthy organisations whose tax status happens to be charitable, but which actually perform different roles: schools, churches, hospitals, emergency services, community groups, nurseries, universities, etc. If this is true, then it's far less of a concern that we have 1 charity employee for every 65 of us, if it includes all these people."
And I thought it was going rather well. Oh well, in the words of the immortal Freddie Mercury 'another one bites the dust'.
In the meantime, while most people in Britain have seen their salaries frozen or worse since the 2008 economic crash, the highest-paid employees at some of our best-known anti-poverty charities have managed to avoid poverty themselves with some quite comfortable pay rises (click to see more clearly)
However, with my charity expose heading towards the bin, our charity bosses can sleep soundly in the knowledge that nobody will find out the true extent of their greed, lies and waste.