For many years our banks have wanted to make us pay them to run our current accounts for us. But they realised this would cause howls of protest at 'greedy bankers'. But about 15 years ago, our banks had a collective brainwave – convince us that it would be a good idea for us to willingly pay for our current accounts.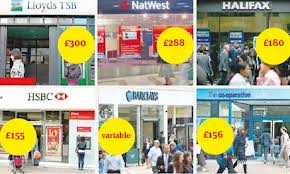 So our banks introduced what they call 'packaged accounts' – current accounts with a few bells and whistles attached. These could be things like a bit of car breakdown cover, some travel insurance, maybe mobile phone insurance and being given the opportunity to put money in special savings accounts that are only available to customers who pay for their current accounts.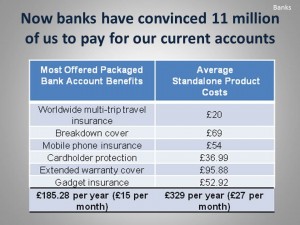 And our banks managed to persuade an astonishing eleven million of us to pay for these accounts.
These 'packaged accounts' will be good value for some of us. But eleven million of us? I doubt it. For example, some people will be too old to use the travel insurance, others may already be paying for car breakdown cover from being members of the AA (15 million members) or RAC (7 million members) or a similar organisation and the terms and conditions on the mobile phone insurance are often so restrictive that it's next to useless.
These problems have been spotted by the claims companies who made fortunes from PPI mis-selling compensation and now some of them are heading for what they hope is another bonanza from 'packaged accounts' mis-selling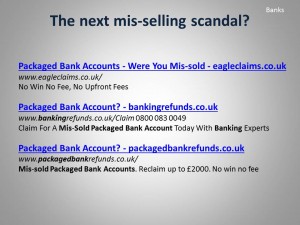 So, if you or anyone you know are generously giving your bank somewhere between £150 and £300 a year to run your current account for you, is it really worth it?
And, if you decide to stop paying your bank for your current account, then why not use just a little of the money you save to buy copies of my two most recent books – GREED UNLIMITED and DON'T BUY IT!