It's the weekend, so I'll keep it short.
Our leaders are beating the war drums again. Now we're being shown photos supposedly of Russian troops massing on the Ukrainian border ready for an invasion. These photos may be recent as John 'Cold War' Kerry claims. Or they may be months old as the Russians claim. But what is clear to me is that the Russians are not our real enemy.
Here are some Russians having a bit of fun (click to see more clearly)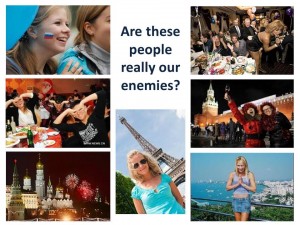 They don't look like they want to start a Third World War and kill us all.
Here are some other people having some fun: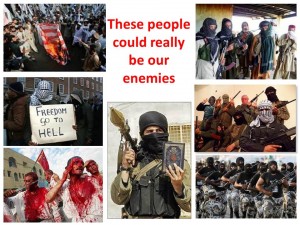 Now they really do look like they hate us, they would like to start a Third World War and they would like to kill us all.
Why can't our useless leaders realise that the problem in the Ukraine was started by idiots Ashton and Barroso doing some more empire-building and that, instead of demonising the Russians, we should be working with them against our shared enemy (radical) Islam? It's not complicated.
Oh, and here's a weekend message from Vladimir: