Here he is – our great Chancellor – a man with a plan. Buffoon Osborne's great plan is that he's going to "build for Britain".
For this dope, "building for Britain" means creating a new garden city on some marshland and an old quarry site just beside a river at Ebbsfleet. Here's the site of George's marvellous new garden city.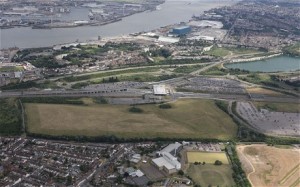 While I don't like to p*ss on Osborne's parade, I see a few possible problems. For a start, I thought the recent floods had taught us that building houses on marshland beside a river isn't such a great idea as rising water levels after rain may mean George's new garden city could soon resemble Venice, but with rabbit-hutch sized houses and submerged cars rather than magnificent palazzi and gondolas.
But the biggest problem is in "the numbers". George's garden city will apparently have 15,000 new homes. Hooray for George! An amazing 15,000 new homes! Housing crisis solved! What a genius!
But hold on a minute, if there are an average of three people in each of these homes, then that's 45,000 people housed. Yet every month 46,000 to 50,000 new immigrants arrive in Britain. So, we actually need one of George's wonderful garden cities to be built every 30 days – not one every 30 years – if we're going to house all the culturally-enriching, highly productive, hard-working folk that our leaders are importing to please their EU masters and destroy Britain's identity and heritage.
So, George isn't "building for Britain". He's building for immigrants, of course using our money. But he's not building fast enough. Remember, we need a new 15,000-home garden city every single month. Yup, a new garden city every month. Hopefully this gives some idea of the massive scale of immigration that is turning our country into a squalid, overcrowded, grey, concrete, Third-World hell-hole.
Oh, George's great plan doesn't look so great after all.