We hear it every almost every day – "the UK economy is growing", "we're out of recession", "the worst is over", "there's light at the end of the tunnel", "UK economy is fastest growing in Europe", "UK growing faster than Germany" etc etc. And sure enough, if you look at the basic numbers, this seems to be true (click to see charts more clearly)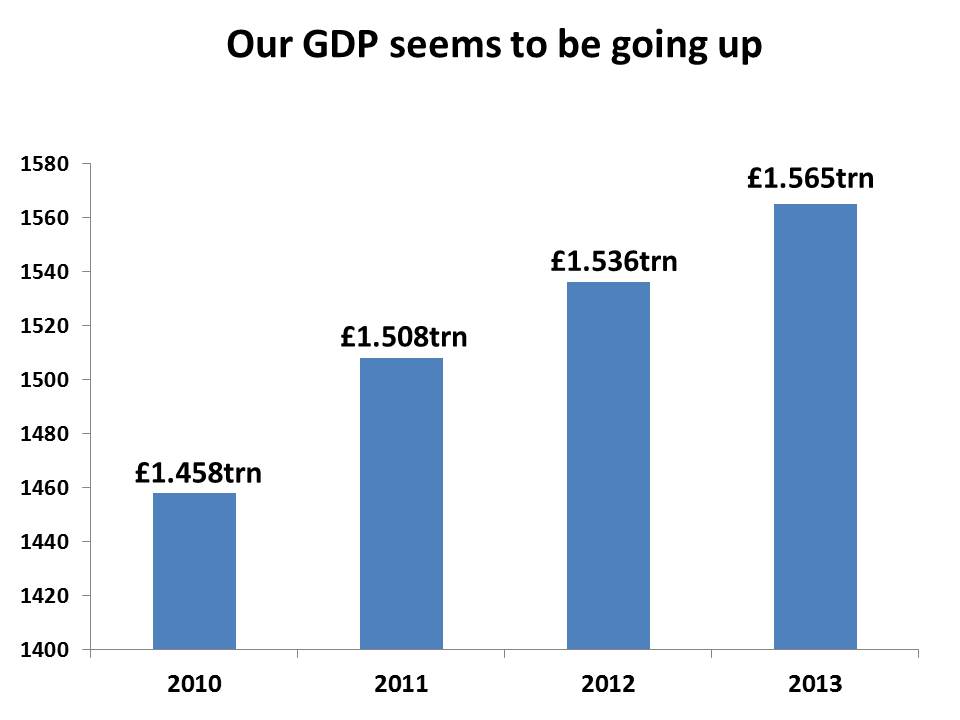 But these figures don't take account of inflation. And once you throw in inflation, as far as I can see, the UK economy grew in real terms by £16bn in 2010 and then shrank in real terms by £18bn in 2011, £15bn in 2012 and £9bn in 2013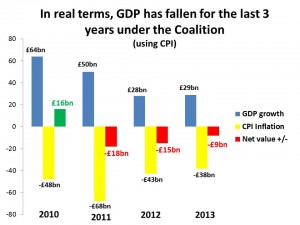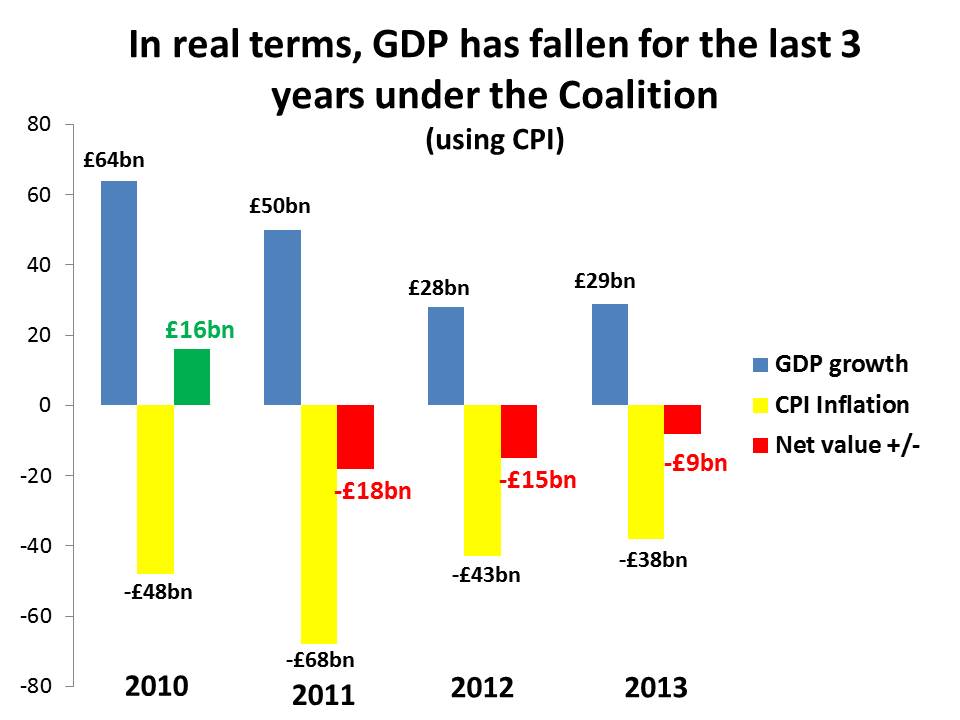 And I'm just using CPI as a measure of inflation. Had I used RPI, things would look a fair bit worse.
(Many of you will be a lot smarter than me and you might look up the official Government ONS inflation-adjusted GDP figures. If you do, you'll find the economy grew each year and didn't shrink as I suggest in the above chart. But the Government and ONS don't use either CPI or RPI when adjusting GDP for inflation. They use their own special measure called the "GDP deflator". This is usually much less than CPI and a country mile less than RPI. For example, in 2010/11 when CPI was at about 4.5% and RPI probably over 5%, the Government's wonderful GDP deflator was only at 2.8%. By using the GDP deflator, our masters can make decline look like growth. Yet we hear not a peep of protest from the (IMHO) sycophantically, self-serving Robert Chote, boss of the £2m a year, laughably titled "Office for Budget Responsibility")
If I'm right, this is far from good. But there's worse to come. The supposed growth the politicians and economists blether about has been bought at enormous cost. We borrowed £140bn in 2010, £150bn in 2011, £130bn in 2012 and £120bn in 2013. That's £540bn that will have to be paid back at some point. Again, one would expect a genuinely "independent" Office for Budget Responsibility to be howling in protest against this appalling level of economic mismanagement. Sorry, I can't hear you Robert Chote.
So, taking account of CPI inflation and government borrowing, does this mean the Coalition is effectively destroying massive amounts of value every year?
I don't know. But I do understand that the faster we supposedly crawl out of recession, the deeper we sink into a cesspit of debt. And that just doesn't look (or smell) like something we should be celebrating.