As we move towards yet another Osbornomic budget, all the usual idiots are blethering on about how we need tax cuts. After all, these buffoons argue, with the economy growing, our great chancellor can afford to give us back a bit of our money. What planet are these utter twats living on???
Yesterday, I hopefully showed that the only way our masters could make it look like the economy was growing was by fiddling the inflation figures. Today, I'll try to show how "healthy" our national finances are.
1. Government spending – is still totally out of control and is still heading remorselessly upwards. It was £672.3bn when the Coalition took over in 2010, it will be £728.7bn in 2015. (I know there seems to be a drop in 2013, but suspect when all the figures are in, 2013 will go a bit higher) (click on charts to see more clearly)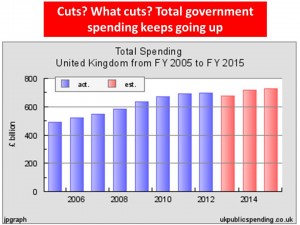 2. Government debt in £trn – this is also shooting ever upwards in spite of the supposed "economic growth" which I believe doesn't exist
3. Government debt per capita – this is also climbing towards the skies
I'm not an economist. And I realise that there are many very clever economists running the country, writing in the press and appearing in the media. But when I look at the above 3 charts, I fail to see the bright lights of economic recovery that everyone else is celebrating. I apologise for being really really stupid.