As I've blogged before, the Government likes to talk about "net migration" as this makes the scale of immigration seem smaller. But this blatant artifice hides the fact that our country loses economically if financially-independent pensioners leave and are replaced by unskilled, poorly-educated immigrants from Africa or the Indian sub-continent.
Anyway, I've looked at the official Government figures for the quantity of National Insurance (NI) numbers issued to foreigners for the period 2002 to 2012 (the latest period for which figures are available). Here are the levels of NI numbers issued by geographic area where the immigrants have come from (click on chart to see more clearly)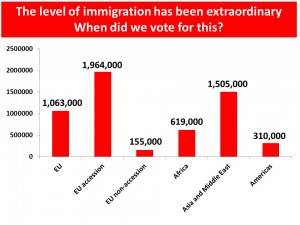 This is the equivalent of a Bristol, Sheffield, Leicester or Brighton arriving in Britain every year for these 10 years.
But for me, such large numbers are difficult to grasp. So, I've broken these figures down to the level of NI numbers issued to foreigners by month over the 10-year period of 2002 to 2012 (click to see clearly)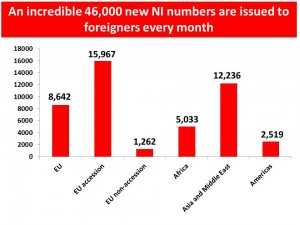 Hopefully this gives a better feel for the invasion of our country that our masters have encouraged – about 46,000 new NI numbers have been issued to immigrants every month for the 10-year period!!!!! That's over 2,000 every working day!!!!
When did we vote for this?????
(If you find any of these posts interesting or useful, you're welcome to show support for this website by buying copies of my latest book GREED UNLIMITED)