I've been frequently contacted by readers asking why I don't display readers' comments under each day's blog and why they have to click on the title to leave a comment or see comments. So today I'll take a break from the usual current affairs stuff and answer the question.
There are several reasons:
1. Legal liability and EU censorship
You have to remember that in most EU countries, many press and media groups (like the BBC) receive large amounts of EU money in return for "informing" the EU's 500 million citizens about all the "good work" the EU is doing. This means that very few will ever print any articles or allow any broadcasts that are critical of the EU. When I went to Brussels in 2008 to research and write my book THE GREAT EUROPEAN RIP-OFF , I was handed tons of material by journalists from other EU countries who were not allowed to use it as all their stories had to be in support of the EU.
So the only source of truth about the EU's waste, corruption, lack of democracy and catastrophic policies is the Internet. The EU has been trying to control the Internet for years and this year managed to gain a massive victory against free speech. The European Court of Justice (which is actually a political court dedicated to "ever closer union" and has nothing to do with "justice") ruled that websites were legally liable for any comments put on them by readers. I reported this in www.snouts-in-the-trough.com/archives/7084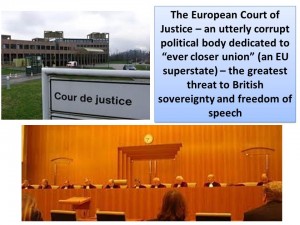 In the case a ferry company complained that commenters had damaged its reputation. But rather than using the "report" function to have the negative comments removed, the ferry company waited 6 weeks so that maximum number of people could read the negative comments and then it sued the website. The ECJ naturally supported the ferry company against the website. If you haven't read my blog on this, I strongly advise you to as the ECJ ruling is probably one of the greatest attacks on free speech in decades. So, I cannot risk being liable for what people write.
2. I can't moderate
Given the above, I would need to moderate all comments. But as I work alone, often on bad Internet connections, often thousands of miles from the UK, I can't moderate comments.
3. Hijack by people with extreme views
Most comments I get are informed and useful. But sometimes I get rants accusing the Jews/Blacks/Muslims/Immigrants/whoever of ludicrous conspiracies. While I personally have no problem with people revealing their ignorance and prejudices, I feel that displaying such stuff would detract from the serious messages I am trying to communicate
4. There are better forums for discussions
I appreciate that most people don't have the time or energy to look behind the main news stories. So I use the information I find writing my books to try to pass on things I hope people might find interesting or useful. Hence so many diagrams and charts. People are free to comment on my site, but if they do so, they'll probably only get 400 to 500 readers. If you comment on the Telegraph  or Times  websites, you'll probably get many more readers.
5. Cost
It would probably cost me a couple of hundred quid to make changes allowing display of comments and including a "report" function. I don't mind spending the money. But when I started the website I naively thought readers would show their support by forking out a few quid to buy my books. With my latest book GREED UNLIMITED about 70% of readers have been too tight-fisted to buy the book and so I've lost a fair bit of money writing and producing it. That makes me less than enthusiastic about throwing more money into the bottomless pit of trying to inform people of what's really happening if I don't get any support. And that's why I'm considering closing down the website. I'll probably soldier on till mid-February 2014 when my next book gets published and see how things go before making the final decision about whether to continue. So, if I close the site down sometime in the next few months, there's no point spending money now improving it.
Hopefully that all explains why readers can comment and view comments but why they are not displayed immediately with the articles.
Tomorrow's blog – Some possibly interesting figures on the ethnic/religious make-up of Britain's prison population