She's back. The witch is back. Probably the most loathed woman in Britain is back on our TV screens. Following Miliband Junior's pledge to freeze energy prices, the energy companies are fighting back against suggestions that they (like the banks) have been shamelessly ripping us off for years. And who is touring the TV studios defending our rip-off energy companies? It's none other than the (IMHO) arrogant, lying, self-serving, greedy witch Angela Knight.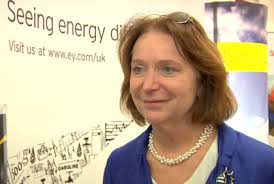 From 2007 to 2102, the lovely Angela was Chief Executive of the British Bankers' Association – the trade body for our banks. All this time, Honest Angela vigorously defended the banks against criticism of their greed, mis-selling and manipulating markets. Bloomberg reports that, in a December 2008 statement, she declared that Libor could be trusted as "a reliable benchmark".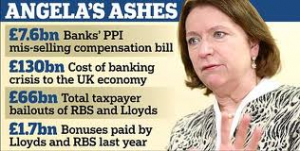 After a verdict against the BBA at the High Court in April 2011, some BBA members criticized Knight's handling of the case and called for her to step down as Chief Executive. On 1 April 2012 Knight resigned as chief executive of the BBA. In May 2012 it was announced that Knight had been appointed chief executive of trade body for our energy companies – Energy UK.
There are two main lies used by Angela and the energy companies when trying to argue that they are not a cosy cartel exploiting their dominant position – that they only increase energy prices when their costs go up and that we have some of the cheapest energy prices in Europe.
1. Lie number one – prices only go up when wholesale prices go up. Here's a graph of wholesale compared to retail energy prices (click to see more clearly)
As you'll see – the energy prices we pay do go up when wholesale prices rise, but then they stay up, making massive profits for the Big Six energy companies.
2. Lie number two – Britain has some of the cheapest energy prices in Europe. This is actually true. But our basic energy costs are some of the highest in Europe. The reason why many countries pay more for their energy is that the VAT on energy bills is much higher on the Continent (usually over 15%) than in Britain (5%).
And here are just a few real facts and figures the lovely Angela probably won't mention:
1. Our often foreign-owned energy companies make four to five times as much profit in the UK than they are allowed to make in their properly regulated home markets
2. They are so profitable in the UK that Scottish Power's Spanish owner Iberdrola recently lent its American subsidiary £800m leeched from its UK customers, as the American subsidiary needed the money to meet investment commitments it had made to US regulators
3. Last year SSE (formerly Scottish and Southern Energy), Britain's second biggest energy firm, saw its profits increase by 32%. Meanwhile SSE's eight million customers saw their fuel bills rocket by 9% (well above the rise in inflation), adding £119 to the average yearly bill. All the other energy companies reported increased profits last year of between 25% and 35%.
4. Since 2006-7, the useless UK regulator Ofgem's budget increased from £18.6m to £32.6m and yet due to Ofgem's pathetic efforts, the UK is one of the most profitable energy markets in the world. Ofgem has estimated that energy companies will triple their profits this year but does nothing to protect consumers from predatory pricing
(click on title to leave a comment or to see comments)
(Tomorrow – if you have money in unit trusts or pensions, this could be the most important chart you'll ever see)