Here's some "scientific proof" that the earth is getting warmer: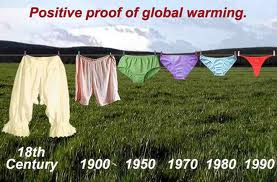 Well, this is as scientific as the complete balderdash the corrupt, grant-seeking, figure-fiddling, self-serving warmists have been feeding us for the last few decades.
But are the political and media elites beginning to back away from their Man-made Global Warming religion? A few days ago, it was reported that Mr Slippery (aka David Cameron) "has hinted he would like to cut green subsidies that force up energy bills, after questioning the "sanity" of onshore wind farms".
And on the BBC's breakfast programme this week, the reporter actually said that the link between Climate Change and human activity was not yet proven. Whooopps. That's after the BBC has been insisting for 15 years that the science was settled and human activity was to blame for the earth getting warmer. For fifteen years the BBC has deliberately ignored the fact that the earth's temperature hasn't changed since 1998 in spite of CO2 emissions increasing dramatically.
But let's not get too serious. Here's a short (just over 1 minute) and hilarious interview with some "expert" or politician or someone of that ilk at a climate change conference in Germany trying to explain that Europe's colder winters are the result of Global Warming http://www.youtube.com/watch?feature=player_embedded&v=_hcz0NwtU7Q
These are the kind of people that are forcing the West to commit economic suicide by doubling energy prices while the US and Asian countries look on in amazement at our utter stupidity.
These people truly are utter and total nincompoops.