Most people know that youth unemployment in some European countries is approaching catastrophic levels (click on charts to see more clearly):
The problem for those now jobless is that, by the time the economy improves (7 or 8 years after the 2008 crash), a new generation of school and university leavers will be coming onto the jobs market. So, many of those currently unemployed may never get the jobs for which they are qualified.
The situation in Britain is not as bad as in other European countries: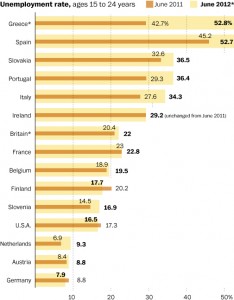 But something worrying has happened in the British job market: the number of "over 65s" in the workforce (blue line and scale on the left) has gone up by 600,000 from 400,000 to 1,000,000. At the same time, the number of "16-24s" employed (red line and scale on the right) has fallen by about 600,000 from just over 4,200,000 to just above 3,600,000: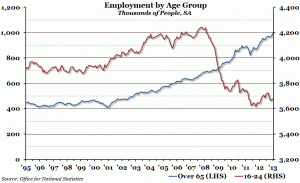 Two days ago, on this blog, I proposed we should be giving student grants to any "16-24s" who sign up to a practical, vocational course in bricklaying, plumbing, carpentry, electrician, car mechanic etc. Getting about 100,000 "16-24s" on these courses would only cost us about £1bn. The UK has just increased foreign aid by £2.6bn from £7.9bn to £10.5bn. If we just cut foreign aid (most of which gets stolen by corrupt Third World kleptocrats anyway) back to £9.5bn (well above what it was last year), we could get an extra 100,000 young people on courses that would give them skills for life and virtually guarantee them jobs for life. Surely they're worth it?