Just two simple charts today. The first is of the projected US government debt. As you'll see, this week's sequester (forced $42bn spending cut) makes little difference to the trend – up. up, up, up.
But the US chart looks positively wonderful compared to the UK's projected debt.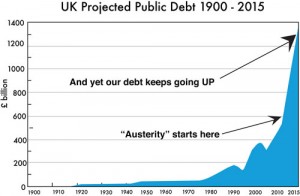 Our problem is that the government hasn't a clue what to do. They cut a bit of capital spending and thereby reduced useful economic activity. But they haven't touched wasteful current spending – bloated salaries and pensions for Britain's bloated, useless public sector and bloated benefits for the lazy, feckless, workshy and parasitic. I don't know how this is going to end, but it won't be pretty. And these figures don't include the cost of 2 to 3 million Romanians and Bulgarians coming to Britain. I reckon that will be another £30bn a year in housing, education, healthcare, policing and benefits.
A couple of months ago I started moving my savings out of sterling and am waiting for the pound to stage a brief recovery before moving more money abroad.
(click on title to leave a comment)