Here we go again. As the government's Funding for Lending gives the banks cheap money, they don't need our savings and so have cut interest rates on savings accounts to below the rate of inflation. So anyone with savings is being virtually forced to put them into stock-market "investments" like shares and unit trusts just to try and preserve the value of their money. Consequence – shares prices rise and all the usual journalists start gushing about the supposed "stock market boom" and advising us to get on the bandwagon. Helpfully, many journalists even suggest a few unit trusts where we could put our money.
So here are a few words of warning. Firstly, one financial journalist admitted that for financial journalists life was just a series of junkets as investment managers and unit trust managers and pension fund managers wined and dined them, took them to exclusive sporting events and even paid for their holidays to get their companies' products mentioned in newpaper and magazine articles. After all, there are over 3,000 unit trusts – so how come just a handful repeatedly get their names into junketing journalists' articles?
Secondly, share prices may be going up in nominal terms (blue line on the chart). But if you adjust for inflation (red line) then the picture isn't quite as rosy as the well-junketed journos like to suggest. In fact, if you look at the inflation-adjusted (red) line, the FTSE100 would have to go above 8000 to reach its level of 12 years ago.  It's only just over 6300 at the moment, so it's around 30% down in real terms.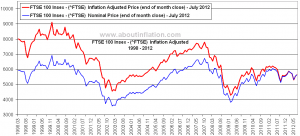 Thirdly, quite a few FTSE100 companies earn much of their money abroad. So their rising profitability may have more to do with the collapse in the value of sterling than being based on business activities.
I feel shares are a bit too high at the moment given the economic situation. Personally, I bought a bunch of shares when the FTSE was at 5500 as I reckoned it would soon go above 6000 and anyway companies were paying more in dividends that the banks were in interest. But at current levels, I'm not confident. Of course, the dividends are very attractive compared to bank interest rates, but I suspect the FTSE will go below 6000 some time in 2013 and that's when I'll top up on more shares.
But why do I know? Maybe the junketing journalists are right and we should all be buying more shares?
(click on title to leave a comment)