Below is a chart which possibly casts an interesting light on the current recession – it has gone on much longer than the three previous recessions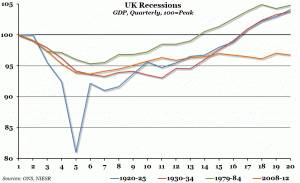 This rather suggests that our work-experience, part-time chancellor's pathetic attempts to manage the country's finances aren't working.
Buffoon Osborne has made too many mistakes to list them all here. But probably the worst one was to slash capital spending (that is spending which creates jobs) while increasing current spending – more bureaucrats, bigger salaries for bureaucrats, six-figure redundancy packages for bureaucrats who immediately take up new jobs in the public sector, more quangos, more money for quangos and so on – which, of course, doesn't create jobs. That's a really dumb thing to do.
Meanwhile, that great international statesman David "Tony Blair" Cameron flies around the world posing for the cameras while handing out billions of pounds, which will increase our borrowing, to the leaders of some of the most corrupt countries in the world (Mali, Afghanistan, Pakistan, Algeria, Syria). No wonder these leaders are smiling so broadly in the photos as Cameron showers them with our money which will soon find its way into their already bulging offshore bank accounts.
What a shambles.