I've written previously about how our taxes are set to increase by over 33%: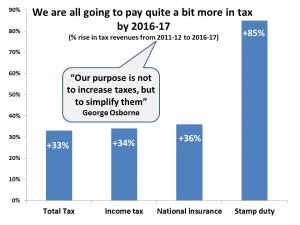 But another way the government is planning to impoverish us in order to reduce its debt levels is by letting inflation rise to 4%-5%. At just 4%, the spending power of our money is halved in only 15 years. For example, someone retiring at 65 on a reasonably comfortable £20,000 a year, will get the equivalent of only £10,800 by the time they're 80 (see figure)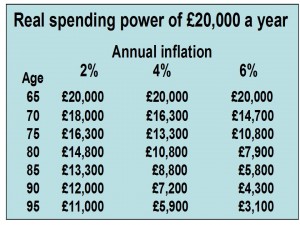 This also means the government can halve its debt in real terms in 15 years.
Then there's the financial services industry. With all their dud savings products, they'll be pocketing about 30% of your savings every ten years. If you've got a mortgage, you'll pay around twice the value of your home in repayments over 25 years – so if you buy a £250,000 house, you'll hand over almost £500,000.
When you come to retire and buy an annuity, you'll lose another third of your money in fees, commissions and charges. And finally, should you find yourself a little strapped for cash in retirement, you might be tempted into taking an equity release loan. But beware, because of their high interest rates (typically close to 7%) a small loan of say £50,000 taken out at age 65 will leave you owing almost 4 times your original loan (£193,000) by the time you're 85 – so there probably won't be too much money left in your home for care home fees or to pass on to your children (see figure)