Wednesday/Thursday blog
Time to celebrate!
On Friday 9 June, I received an email from Waitrose telling me to "Get ready to celebrate Pride".
This email flaunted how woke Waitrose was: "It's Pride month, and we're looking forward to celebrating with family, friends and colleagues – and of course, delicious food and drink!
"At Waitrose and John Lewis, we're committed to inclusion – and our LGBTQIA+ network, Pride in the Partnership, is always busy. So far this year, we've celebrated LGBTQIA+ History month in February and International Trans Day of Visibility in March with events and educational packs for Partners."
Copying this from the email Waitrose sent me, I was reminded of a few lines from a job ad for a Diversity, Inclusion and Equality assistant for Lincoln Community Health Services Trust which I included in an article I recently wrote for The Conservative Woman. The candidate's responsibilities included: "Set up meetings, facilitate arrangements for EDI celebration weeks and days (to include Black History Month, LGBT+ History Month, Carers week and International Women's Day'.
I imagine all Waitrose stores will be festooned with Gay Pride rainbow banners and suchlike. Well, I guess they need something to put in their stores as the shelves seem rather empty: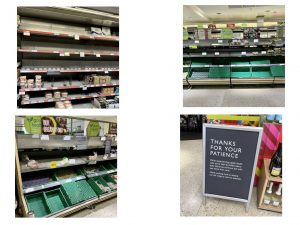 Apparently Waitrose recently used an Indian IT company to 'upgrade' their IT systems. As usual with any IT 'upgrade' chaos ensued. One tech website reported:
'A bungled system update has left the chain's stores with a shortage of fresh produce, while customers have also reported problems using its app and securing slots for deliveries. Waitrose, which is part of John Lewis, has 329 stores across the UK.
'Waitrose customers started reporting problems over the May Bank Holiday weekend. A system update took longer than expected, which interfered with the delivery of fresh produce.
Tech Monitor has contacted Waitrose to find out more information, but a spokesperson for the chain told the Daily Telegraph on Friday that the problem had been fixed. "We're really sorry for the disruption that some customers faced. We've fixed the cause of the problem, and have regular daily deliveries going to all our branches," the spokesperson said. "Many shops now have good availability, and we're addressing localised issues as quickly as possible."
Well, I went to a large Waitrose store on Monday this week and I can assure you that 'the cause of the problem' has not been fixed – more than half the basic everyday items I wanted to buy were unavailable. The shelves were empty.
Meet Sharon 'empty-shelves' White
That brings us to Dame Sharon White, who I have affectionately dubbed Sharon 'empty-shelves' White. Though here she is in a Waitrose shop which apparently had some stock on its shelves
According to Wikipedia, Dame Sharon has had a stellar career:
White worked for a church in Birmingham before joining the British civil service in 1989. She worked first at the Treasury and later for the British Embassy in Washington. She also worked at the 10 Downing Street policy unit during the Blair Government, at the World Bank, and as a director general at the Department for International Development in 2003–09 and then at the Ministry of Justice in 2009–11, and also at the Department for Work and Pensions
In December 2014, it was announced that White would be the chief executive of Ofcom from March 2015. In June 2019, it was announced that White would be stepping down from her role at Ofcom to take a position as the sixth Chairman of the John Lewis Partnership. It was confirmed that White will be awarded an annual salary of £990,000 for her role at the John Lewis Partnership, a significant increase on her previous salary, which was £341,700 according to data released by Ofcom.
Hopefully readers will have noticed that all Dame Sharon's previous jobs before taking over at the John Lewis Partnership (which includes John Lewis and Waitrose) were in public-sector organisations where you tend to be handed huge sums of taxpayers' money for what many of us wouldn't describe as 'work'. Most of the people leading British retailers and supermarkets have spent their lives in retail and have a vast amount of retail experience. As far as I can see, Dame Sharon has never had to do the difficulty job of providing anything that a customer might want to buy at a price the customer would be willing to pay.
Of course, there's nothing wrong with a company bringing in a new boss with a new perspective and new ideas. And Sharon has, I believe, proposed things like destroying the John Lewis partnership structure by bringing in new investors who will want to be paid dividends every year and also building flats above or instead of stores. But before coming up with brilliant new ideas, it could be useful if the new boss could prove they were capable of successfully running the basic business for which they are responsible. However, in March 2023, the magazine Retail Gazette reported: 'John Lewis Partnership has plunged to a loss of £234 million and admitted it could not afford to pay staff their traditional annual bonus.'
The Retail Gazette also reported: 'John Lewis Partnership chairman Sharon White has pledged to return the retailer to profit before 2026, adding that staff bonuses would only return "when affordable". Following three years of losses, White's five-year plan, kicked off back in 2021, would "get the partnership back to sustainable profit".
And Dame Sharon is quoted as saying her recovery plan would create: "a broadly based business with brilliant retail at the core, built on excellent customer service, quality and ethics". Though from the little I have read, I believe Dame Sharon's great plan includes swingeing cost cutting, which usually means getting rid of loyal staff so the big boss can get a massive bonus.
Go woke, go broke?
That brings us to the cliché: 'Go woke, go broke'.
A cynic might wonder if John Lewis's and Waitrose's current problems are yet another example of "go woke, go broke'. After all, Waitrose boasts: "At Waitrose and John Lewis, we're committed to inclusion – and our LGBTQIA+ network, Pride in the Partnership, is always busy. So far this year, we've celebrated LGBTQIA+ History month in February and International Trans Day of Visibility in March with events and educational packs for Partners." Yet at the same time shoppers are reportedly abandoning Waitrose in droves as there's no point going to a shop with loads of empty shelves.
A really nasty cynic might even wonder if Dame Sharon 'empty-shelves' White is following in a new tradition of ladies such as Dame Cressida Dick at the failed Metropolitan Police, Amanda Pritchard (who no doubt will also soon be a 'Dame') at the collapsing NHS and Alison Saunders at the useless Crown Prosecution Service who have possibly been hired more for their wokeness and diversity credentials than for their experience or abilities. But I'm not a really nasty cynic so I would never suggest anything like that.
As for me, I visit a shop to buy stuff, not to be bombarded with the latest woke garbage being inflicted on us by shouty (IMHO) mentally-deranged minorities. So I won't be going back to Waitrose for some time, if ever.