Tuesday/Wednesday/Thursday blog
I didn't watch the (IMHO) rather pointless coronation of the King of Eco-loons and his gorgeous Queen Godzilla. And there's been so much guff said and written about the whole ghastly spectacle that one would think it impossible to add anything which hadn't already been covered.
But there were a few anomalies I noticed which might be worth mentioning.
Cost of the event
From what little I did hear, we were told that Charles had made changes to the occasion so that the whole thing wouldn't be a massive splurge of our money. I understand that the final cost will be somewhere between £50m and £100m. If so, after allowing for inflation, this makes it by far the most expensive of the last seven coronations:
Pity Charlie and Godzilla couldn't have stumped up some of the cost. So much for saving British taxpayers' money.
Cost of the 'slimmed down' royal family
We've also been told that Charles has been working on a 'slimmed down' royal family. I know he's only been King for a few months. But I believe he was pushing this idea for several years before he became King. However, like everything else which devours huge quantities of taxpayers' money, the more we're told that costs are being cut and efficiencies made and waste reduced etc etc, the more it actually seems to cost us: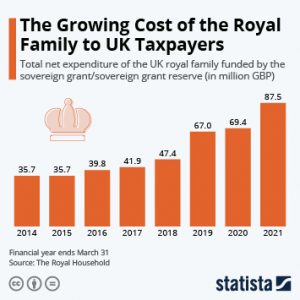 From billions to hundreds of millions to a few million?
Again, I admit I wasn't paying much attention to the event. But I do remember being told a few weeks ago that 'billions' of people around the world would be watching the ceremony so it would be a glorious day for Britain. I have the feeling that as the day approached, our hyperventilating reporters dropped the 'billions' and instead predicted that 'hundreds of millions' would be watching. Then on the day, I have the impression that the 'hundreds of millions' was downgraded to 'millions'.
Personally, I felt more than queasy about the peevish, petulant, self-obsessed, perpetually-complaining Charles becoming King and would have been much more comfortable if Charles had stepped back and let William and Kate take over. But Charles is too selfish to let that happen.
What's the point of GB News?
I expected brown-nosing sycophancy from the BBC, Sky and ITV. But I was rather disappointed to see the same grovelling, fawning and toadying from GB News. In fact, I'm beginning to wonder what's the point of GB News. Since the cowardly abandoning of Mark Steyn, GB News has become almost indistinguishable from programmes like ITV's Good Morning Britain or the BBC's Breakfast programme.
Oh, and while we're on the subject of the baleful influence the useless Ofcom has had on free speech in the media, it's rather amusing that the previous head of Ofcom from 2015 to 2019, Dame Sharon White, has (from what I've read) made such a complete balls-up of being head honcho of the John Lewis Partnership that there's talk of her being booted out before she wrecks the company completely.
As for GB News, if I watch a little TV in the morning, I find Talk TV's Julia-Hartley Brewer and Mike Graham doing what GB News once said it would do before it capitulated to Ofcom. And although neither Hartley-Brewer nor Mike Graham dares openly question the Human-Caused Climate Change cult, I get the impression from throwaway lines that they both believe the whole thing is nonsense. If I watch a little TV in the afternoon, I find Al Jazeera much more informative than anything British TV can offer.
Oh, no – there's still Eurovision
My joy at the coronation pantomime finally being over is tempered by the knowledge that we've got to get through next week's equally ghastly horror with people dressing up in stupid costumes – the Eurovision Song Contest. So we need to steel ourselves for yet more gushing and fawning and grovelling and inanities and suchlike from our supposed journalists.