weekend blog
Did you survive the 'catastrophic' heat-wave?
On Thursday we were graced with knee-trembling warnings from such august bodies as the Met Office, the UK Health Security Agency (UKHSA) and, of course, the mainstream media such as the BBC, ITV News and C4 News about the trillions who could die due to the life-threatening heat-wave about to hit the UK yesterday (Friday) – a heat-wave that only affected the south of the country and which only lasted for just one day!
Though we have to accept that the temperature did manage to reach 18 degrees in Aberdeen and I guess that counts as a 'once-in-a-lifetime' sweltering heat-wave for the downtrodden citizens of Chairperson Sturgeon's Glorious Democratic People's Republic of Scrotland twinned with North Korea.
At the time of writing, I don't know how many (if any) actually died in Friday's supposedly 'life-threatening' heat-wave. Probably a couple of useless drunks did leave us possibly by diving into shallow water while pi*ssed out of their minds. But that's just Darwinism – improving the human gene pool.
However, around 10,000 people in the UK die prematurely each winter because they can't afford to heat their homes because possibly as much as a third of their energy costs are due to massive subsidies paid for useless, expensive and unreliable supposed 'renewable energy'.
Yet as each winter approaches and another 10,000 are expected to die from the cold, there are no reports from the UKHSA and mainstream media of the fact that, if subsidies for useless, unreliable supposedly 'renewable energy' were scrapped and energy prices fell, perhaps 2,000 to 3,000 or more lives could be saved.
Meanwhile, while our mainstream media bleats about the high temperatures in India last week and parts of Europe this week, there is no mention of the record cold spells in Peru this week (coldest for 11 years) and parts of Australia (coldest for 114 years). It seems that when it's either hot or dry or flooding, the media orgasms that this is proof of catastrophic Global Warming (when it's hot or dry) or catastrophic Climate Change (when it's a bit wetter than usual). But when somewhere is a bit colder than average, the media and climate-change gravy-train-riding 'experts' are curiously silent.
The UK's Met Office decided to start giving storms names back in 2014, in the same way they do in America. The first windstorm to be named was Abigail on 10 November 2015. By naming storms, our climate-catastrophist elites and hyperventilating journalists can make ludicrous claims such as the UK has had more serious (named) storms in the last 10 years than in the last 100 years. Perhaps the worthless net-zero-obsessed Met Office will soon start naming heat-waves so they and the idiots in the mainstream media can start claiming something like we've had more 'fatal' heat-waves in the last few years than in the last 100 years?
Energy rationing in Australia?
It's the start of winter Down Under. And it's been the coldest start to winter there since 1908: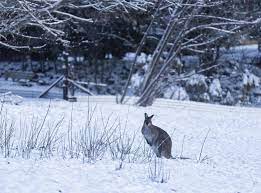 The good news is that Australian ski resorts are having a bonzer season:
But there's a small problem. Australia's exports of energy resources like coal, gas and uranium to sensible countries that want to provide electricity for their industries and homes, have never been higher:
(left-click on image, then left-click again to see in glorious, widescreen technicolour)
But crazy Greeny policies mean that Australia can't provide enough electricity for its own people. Rationing – turning off supply to some areas – hasn't started yet. But the Australian authorities are begging people to limit their electricity use at certain times of the day.
Here's the wonderful but seemingly exasperated Andrew Bolt from Sky News Australia explaining the latest stupidities from our eco-crazed rulers: