Monday/Tuesday blog
I realise that most of my readers are highly intelligent and well-informed. They are certainly much more intelligent and better-informed than the politicians who have somehow crawled their way into lucrative positions of power over us and the media prostitutes who regularly preach to us unwashed, pig-ignorant plebs about how we should think and what views are acceptable.
So I'll keep this blog really really simple in case there are any dumb politicians or media prostitutes reading it.
Where does our oil and gas come from?
Here's a simple chart. It shows the main oil-producing countries: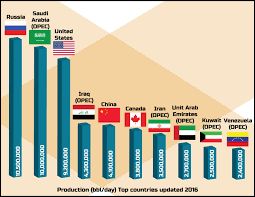 (left-click on chart and then left-click again to see more clearly)
This shouldn't be too difficult for incompetent, intellectually- and morally-challenged politicians and lying, self-serving supposed 'journalists' to understand.
And here's a chart showing the main natural gas producing countries: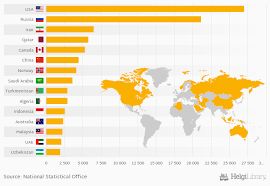 These charts show where geo-political power currently lies – with the OPEC countries and Russia
The "Energy Transition"
But as we all know, for some incomprehensible reason, our useless, scientifically-challenged rulers and our equally useless and equally scientifically-ignorant mainstream media are convinced that humans using fossil fuels are causing the Earth to overheat with some of the more extreme climate catastrophists even suggesting that Global Warming will be so disastrous that Antarctica will be the only habitable continent by the end of this century – in 78 years time: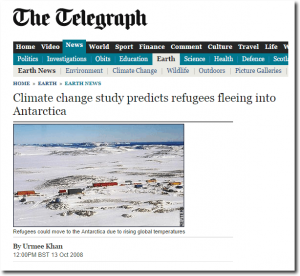 In vain, I have tried to demonstrate that the whole climate catastrophist cult is a load of unadulterated, foul-smelling nonsense:
I have sent copies of my book to more than 10 supposedly 'leading' journalists. But none of them dares question the climate catastrophists' doomsday bunkum. I have also sent copies to 5 or 6 key Tory MPs. But given that Carrie Johnson seems to be deciding government environment policies, they too have ignored my book.
It seems that our rulers have swallowed the climate catastrophist hogwash hook, line and sinker and so are leading us into the "Energy Transition" – replacing energy from fossil fuels with energy from supposedly 'environmentally-friendly' sources – wind, solar, batteries etc.
But the 'Energy Transition' will require massive amounts of materials such as lithium, nickel, cobalt, graphite, and manganese plus a bunch of rare earth metals whose names I can never remember.
And guess where these will come from:
This chart shows two things:
on the left that China currently produces abut 120,000 tonnes of rare earth metals – around 71% of global production
on the main map, that China holds 44 million tonnes of rare earth metals reserves. Though, as Chinese companies (controlled by the Chinese Communist Party) have bought up the mining rights to rare earth metals around the world, China probably controls more than half of the world's rare earth metals reserves on which our rulers' wonderful, planet-saving 'Energy Transition' depends.
There is apparently a little bit of lithium somewhere in Cornwall. But no doubt the eco-crazies will block any attempts to mine that as they block everything else which contributes to other people's wellbeing.
As developed economies look to lessen their dependence on fossil fuels and, by extension, on the political goals and whims of major oil and gas resource holders such as Russia and the members of OPEC, the geopolitical influence of the petro-states will likely wane over time and the geopolitical influence of the mineral-producing countries will grow. I've called this the "Resources Powershift".
I guess your children and grandchildren had better start learning how to beg in Chinese. I'm not sure what the Chinese is for "please sir, can we have a little of your rare earth minerals?"
Am I really the only person who thinks that our rulers' cunning, Baldrickian plan to supposedly save the planet by weaning us off fossil fuels hasn't been properly thought through?