weekend blog
(If you've read my book – THERE IS NO CLIMATE CRISIS – there's probably no need to read this weekend's blog)
I'd like to start by using a chart I used a couple of days ago:
(left-click on image, then left-click again to see more clearly)
The chart shows global temperatures as measured by balloons and satellites from 1979 to 2015 compared to over 30 of the main models used by climatologists. Satellites started measuring global temperatures in the mid-1970s, so that's probably why this chart starts at 1979.
Of course, given that the climate, weather and temperature change every single minute of every single day, you could question whether you can actually measure the temperature of a constantly-changing complex, dynamic system such as the Earth. But let's assume that it is possible to measure the Earth's temperature.
Hopefully you'll notice a few things:
1. Massive overestimation
Firstly: All the models used by climatologists and politicians to decide climate policy hugely overestimate the level of warming. In fact, not a single model comes anywhere near what is actually happening.
2. Starting at a low point
Secondly, in the 1960s and 1970s, the Earth's temperature fell so dramatically, that most climatologists predicted the Earth was entering a new Ice Age. Here's the Guardian from the early 1970s:
Given that the 1960s and 1970s were unusually cold, it's less than surprising that there has been some warming since then.
3. Minimal warming
There was about 0.1°C warming between 1979 and about 1982, then the temperature actually fell till around 1986. Between 1986 and 1995 there was a rise of about 0.3°C. Then from 1995 till 2002 temperatures fell in spite of ever-rising atmospheric CO2 levels. There was a rise again from 2002 to 2005. But that was followed by almost 10 years of cooling, while atmospheric CO2 kept increasing, till temperatures began rising again around 2014.
If constantly rising atmospheric CO2 levels were the main driver of global temperatures, then the alternating warming and cooling would not have been possible.
Moreover, during the whole 36 years covered by the chart, temperatures only increased by just over 0.3°C. If global temperatures were to continue increasing by around 0.3°C every 36 years, it would take 240 years for the Earth to reach the dreaded 2°C warming the climatologists and politicians have predicted would happen by the end of this century – in 78 years time. Yet the climate policies being forced on us by the Paris Agreement are based on preventing a 2°C warming by the end of this century.
Just look at the chart. The Paris Agreement's 2°C warming was never going to happen anyway!
Different models, same mistake
All the main models will differ in level of complexity and in the weighting they give to the various phenomena which influence global temperatures. But they all make the same fundamental mistake – they all are based on the (IMHO erroneous) assumption that the main driver of global temperatures is the level of atmospheric CO2. So, as atmospheric CO2 rises, all the models predict rising temperatures.
And, of course, their useless models fail to explain why the scorching 1920s and 1930s, when atmospheric CO2 levels were around 320 ppm (parts per million) compared to about 415 ppm now, were so hot that 'scientists' back then predicted melting ice caps and massive flooding: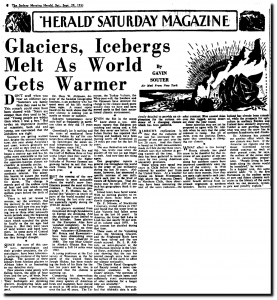 The whole catastrophic man-made climate change narrative now being pushed by the supposed 'scientists', the politicians and the mainstream media is utter and total nonsense.