Monday/Tuesday blog
China's hungry dragon
I'll start with a fact that many readers may not be aware of: China was the fifth-largest petroleum and other liquids producer in the world in 2019.
But China has a more than small problem. China's consumption of petroleum products (the blue line on the chart below) is growing while its production (the red line) is falling;
Most of the country's production comes from legacy fields that require expensive enhanced oil recovery techniques to sustain production. This means that China is having to import increasing quantities of petrol and gas.
China's fuel vulnerability
Until 2013, China had to ship oil from the Gulf through the Straits of Malacca – the chokepoint linking the Indian Ocean to the Pacific. This made China vulnerable to a sea blockade. To get round this, in 2013, the state-owned China Overseas Port Holdings Limited acquired Gwadar Port in Pakistan, no doubt enriching many Pakistani politicians in the process. The port is strategically important for China as sixty percent of China's oil comes from the Persian Gulf by ships traveling over 16,000 km (9,900 mi) in two to three months, confronting  bad weather, political rivals, and other risks. Gwadar will reduce the distance to a mere 5,000 km (3,100 mi)
Moreover, it will enable fuel to be sent directly to Western China without first having to be shipped to an Eastern Chinese port.
If I remember correctly, for the first 20 to 30 years of its independence, India was one of Communist China's best chums. But a series of minor border wars between the two countries drove India away from China and towards the capitalist West. Meanwhile, China poured billions into making friends with India's arch enemy, Pakistan.
The Pakistan Paradox?
Pakistan is (IMHO) our enemy. Most Pakistanis loathe the West: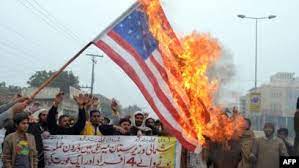 And Pakistan hid Osama Bin Laden in a compound a couple of doors down from their main military training college. No doubt the Pakistanis believed that no Western power would dare attack Bin Laden in such a well-protected location.
Pakistan's hatred of us is clear. Pakistan's getting into bed with the US's rival, China, is clear. Yet since 2002, the US has given Pakistan over $14 billion in aid to combat terrorism and insurgents in the region. That money is meant to reimburse Pakistan for its ongoing efforts to defeat militant groups, and it forms part of the $33 billion in total help that the US has given Pakistan over the same time period. Given that Pakistan is one of the most corrupt countries in the world, you can be pretty sure that most of the $33bn the US gave Pakistan has been stolen by corrupt politicians, corrupt businessmen and corrupt military chiefs.
Quite why the US is pouring is much of its taxpayers' money into the personal bank accounts of Pakistan's utterly venal elites is truly a mystery for someone with my limited intellect. It's what I've called "The Pakistan Paradox"
China's Afghanistan triumph
As the US and UK troops scarper out of Afghanistan, Chinese Communist Party officials have been rushing in making friends with the Taliban presumably to get hold of Afghanistan's estimated $1 trillion of mineral wealth. In 2007, for example, the state-owned China Metallurgical Group Corporation (MCC) signed a $2.8 billion deal for a 30-year lease to mine copper at Mes Aynak, Afghanistan.
It is generally assumed that China is intent on plundering Afghanistan's rare earth metals. But China already has a large bounty of rare earth elements within its own borders. According to recent estimates, nearly 37 percent of global rare earth reserves that are economically viable for extraction are in China. The Bayan Obo mining complex in the Inner Mongolia region of China holds more than 48 million metric tons of rare earths, making it the largest known deposit in the world. By comparison, Afghanistan's primary concentration of rare earths, located within the Khanneshin carbonatite complex in the southern province of Helmand, likely contains just around 1.3 million metric tons of rare earths.
Lithium is perhaps more enticing for the Chinese. An internal U.S. Defense Department memo once described Afghanistan as the potential "Saudi Arabia of lithium." And China is not well-endowed with the metal, possessing only about 7 percent of global reserves
Meanwhile, as China's economic hold over Afghanistan increases, we idiots in the West are doing what I have called "The Pakistan Paradox" – pouring hundreds of millions of pounds and dollars in aid into a country which loathes us, which is increasingly coming under Chinese Communist Party control and which gives us absolutely nothing but hatred in return.
Dopey Joe Biden's administration, for example, have recently handed over about $782m of US taxpayers' money and Boris Johnson's band of fools has given, I believe, about £286m of our money that perhaps would have been better spent in our own country?
China's strategic masterstroke?
Given questions over China's need for Afghanistan's mineral riches, I thought it might be worth looking at a map of Afghanistan to better understand what is really happening. Possibly this hasn't occurred to the Rolls Royce brains at the UK Foreign Office and the equally smart geniuses at the US State Department?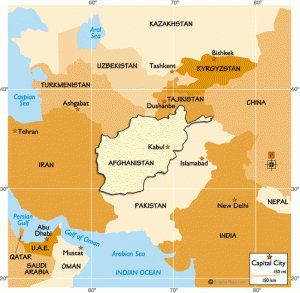 As you'll see, Afghanistan sits between China and one of China's new best friends – oil-producing, West-sanctioned Iran. It seems to me that getting control of Afghanistan gives China a land route for moving fuel from Iran to Western China.
We don't yet know if the Chinese will build a pipeline through Afghanistan and Pakistan from Iran to China or whether they'll build a railway or just roads. But whatever happens, China's economic annexation of Afghanistan will give China yet another route for moving petroleum products from Middle East hell-holes to fuel-hungry Chinese factories and consumers.
Of course, I'm not a clever strategic adviser to any Western government. And much of the above is just my own groundless speculation. But it does make me wonder whether the West is being comprehensively outplayed by China again and again and again.
I wrote a previous blog in which I suggested that while the West was playing the simple game of draughts (checkers), Russia's leaders were playing the more complex game of chess. But China's leaders were playing the much more strategic and complex game, Go.
Draughts vs Chess vs GO – why the West is losing the battle for world domination?