Wednesday/Thursday blog
Scratch a liberal, find a fascist?
There's a saying "Scratch a liberal, find a fascist". The logic is clear. While those on the right believe in individual freedom and personal choice, the liberal left believe that the state knows best and that the state should be given total control over people's lives.
Here's another quote: "Liberal Fascism (Leftism) is a fascism with narcissistic appeal, universally adaptable to all people who will submit, and therefore is more dangerous than any fascism before, as it will find fewer opponents and is already accepted by millions world wide."
Britain's chief scientific advisers
That brings us to Britain's Chief Scientific Advisers. We'll start with Sir David King
The Bonking Boffin's predictions
Britain's favourite bonking boffin, Imperial College's Professor Ferguson was behind the disputed research that sparked the mass culling of eleven million sheep and cattle during the 2001 outbreak of foot-and-mouth disease. He also predicted that up to 150,000 people could die. There were fewer than 200 deaths.
If I remember correctly, in 2002 Professor Neil Ferguson predicted that as many as 50,000 people could die from the human form of mad cow's disease, under a "worst-case" scenario of a BSE-infected sheep epidemic:
https://www.theguardian.com/education/2002/jan/09/research.highereducation
The final human death toll from BSE was 177. The government's Chief Scientific Adviser at the time was Sir David King – Chief Scientific Adviser to the UK Government and Head of the Government Office for Science from 2000 to 2007. During this time Sir David also worked to raise awareness of the need for governments to act on climate change:
https://www.gov.uk/government/people/david-king
Climate refugees heading to Antarctica?
Sir David King hit the news again in 2008 when he was, I believe, reported to have claimed that if global temperatures kept increasing, by the end of this century climate refugees would be fleeing to Antarctica: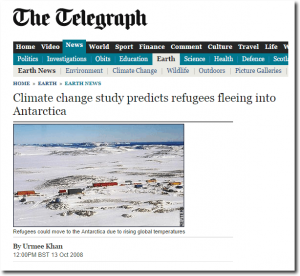 There are only 72 years to go and the temperature in Antarctica is still around minus 54 degrees. So, these supposed climate refugees had better take some warm clothes with them.
'Independent' SAGE
More recently, Sir David has been almost constantly in the media as the founding chairperson for the self-styled "Independent SAGE". This bunch claims on their website: "Independent SAGE is a group of scientists who are working together to provide independent scientific advice to the UK government and public on how to minimise deaths and support Britain's recovery from the COVID-19 crisis."
Though, as far as I know, there have never been any key meetings between "Independent SAGE" and government ministers. Moreover, if my fading memory serves me correctly, throughout the Wuhan lab-leaked Chinese plague, Sir David and his "Independent SAGE" colleagues continuously called for more lockdowns and more restrictions. Yet the most recent actually independent research has suggested that the economically- and societally-catastrophic lockdowns only reduced death rates by around 0.2%.
The Twins of Doom
The Covid con trick?
Now let's briefly look at Britain's current Chief Scientific Adviser, Sir Patrick Vallance. In my ignorant humble opinion, for two years Sir Patrick and his lookalike, Sir Chris Witty, have been scaring the public into accepting more restrictions on their freedom than were ever imposed even in WWII. The Twins of Doom have done this (IMHO) using Covid death figures that were (IMHO) grossly misleading as they didn't distinguish between deaths from Covid and deaths with Covid.
Moreover, throughout this period, the average age of people dying from/with Covid was actually higher than the average life expectancy. I humbly suggest that this fact wasn't made sufficiently clear by the Twins of Doom.
Then, as far as I remember, Vallance and Whitty, using the Bonking Boffin's predictions warned of up to 6,000 deaths a day from Omicron. They achieved this by using  Omicron's increased infectivity while at the same time keeping Delta's death rates even though it was (if I remember correctly) blindingly obvious that Omicron was far less dangerous than Delta.
Boris's Damascene Conversion on climate change?
Now I've finally reached the purpose of this blog – a meeting organised by the office of Sir Patrick Vallance, the government's chief scientific adviser, in the Cabinet Room of Number 10 Downing Street on 28 January 2020. The "teach-in" consisted of 11 slides showing key aspects of climate science and its impacts and the presentation was led by Prof Stephen Belcher, the chief scientist at the Met Office:
https://www.bbc.com/news/science-environment-60203674
"I got them to run through it all and, if you look at the almost vertical kink upward in the temperature graph, the anthropogenic climate change, it's very hard to dispute. That was a very important moment for me," Boris Johnson told journalists afterwards.
In my book THERE IS NO CLIMATE CRISIS, I provide evidence that all the arguments presented to our scientifically-challenged PM were total climate-alarmist nonsense that will be used by the pleb-hating, freedom-loathing liberal elites to restrict our freedoms and impoverish our lives – less power for homes, rationing electricity, punishing people deemed to be using too much power, fewer people allowed cars, cutting consumption of meat, restricting flights and holidays and increasingly confining us to our insufficiently-heated homes.
Welcome to the Paradise the liberal elites are preparing for us. We accepted their fascist rules under Covid. They believe they can now get away with imposing even worse restrictions on us using the cover of supposed man-made catastrophic climate change.
You can fool me once, shame on you. If you fool me twice, shame on me.