Tuesday/Wednesday/Thursday blog
The background
You probably know that one of the greatest problems the NHS had long before we'd ever heard of the Wuhan lab-leaked plague was the issue of bed-blockers: "Delayed transfers of care" – often known as "bed blocking" meant hospitals were unable to discharge patients into the community. December 2019 saw 148,000 delayed days across England, 15% higher than the same month a year earlier.
Sajid 'the destroyer' Javid's first big idea – wreck care homes
No problem when you have someone as smart as dome-headed Sajid 'the destroyer' Javid taking over as Secretary of State for Health and Social Care. The dome-headed destroyer's first significant action was to mandate that all front-line workers in care homes must be double-jabbed against the Chinese plague by November 2021.
https://www.gov.uk/government/news/government-to-introduce-covid-19-vaccination-as-a-condition-of-deployment-for-all-frontline-health-and-social-care-workers
The result? Around 40,000 care workers – about 7% of the care home workforce – lost their jobs. This will, 'as any fule kno', reduce the number of places in care homes and hugely increase the problem of bed-blocking in the NHS just when we face a winter hospital beds WuFlu crisis.
Well done Sajid. You're really making your mark.
Sajid 'the destroyer' Javid's next big idea – wreck the NHS
The dome-headed destroyer's next act of genius is that all front-line NHS staff must be 'fully vaccinated' by April 2022 or else they get fired too. I'm not sure what 'fully vaccinated' now means – whether it's just two jabs or whether it's two jabs plus a booster or whatever.
Anyway, the result looks like the NHS losing somewhere between 50,000 and 100,000 front-line staff. Perhaps Javid and the Rolls-Royce brains of his civil servants haven't quite realised that losing 50,000 to 100,000 NHS staff might possibly reduce the NHS's capacity to treat patients?
When the facts change, our politicians never change policy
I realise that the mandatory vaccinations policy was formulated at a time when the dominant Chinese plague variant was the Delta version which (unlike most things 'Made in China') was actually rather effective. It killed people by destroying their lungs. From my incredibly limited understanding of epidemiology, viruses which kill their hosts tend not to survive very long. So viruses tend to mutate into more infectious but less deadly versions. That seems to have happened with the Wuhan lab-leaked plague. The Omicron variant is now the dominant variant (over 90% of cases?) and attacks mainly the bronchial tract causing a form of (usually non-fatal) bronchitis and so is considerable less deadly than previous lung-destroying variants.
This significant change in the virus leads me to the famous quote by economist John Maynard Keynes: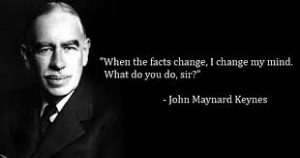 Moreover, we now know that the 'miracle vaccines' weren't quite so 'miraculous' after all as they hardly prevent people getting the Chinese plague and their effectiveness at avoiding serious illness declines after just a few months.
The facts have clearly changed. The Chinese plague is now considerably less dangerous and the vaccines' efficacy was hugely over-hyped.
So, what will Sajid 'the dome-headed destroyer' Javid do?
Will he sensibly accept that the facts have changed and rescind his mandatory vaccination policies for front-line workers in social care and the NHS? Or will he press on with wrecking both social care and the NHS as he won't want to be seen to have changed his mind?
Kakistocrats rule
Sadly for us, for social care and for the NHS, Sajid Javid comes from a different generation than people like Keynes. Previous generations of politicians and civil servants were often people with strong moral principles who were man enough (and woman enough, of course) to admit that changing circumstances might require changes in policies. But today's generation of politicians don't appear to have any principles and their only goal is self-advancement, self-enrichment and self-aggrandisement.
So, even though the facts have clearly changed, it would probably be naive of us to expect the dome-headed destroyer to drop his (now clearly unnecessary) mandatory vaccination policies for care workers and the NHS. After all, Javid will feel that the risk of him losing face and possibly having his career damaged over being accused of a u-turn by the howling media mob is much more important than the thousands of lives which will be lost as our care services and NHS collapse due to Javid-induced staff shortages.
Dan Dare's arch-enemy – the Sajid-Javid-lookalike evil Mekon – never succeeded in doing as much damage as today's dome-headed destroyer Sajid Javid. Apparently arrogance and incompetence are often more destructive than evil: