(Thursday/Friday blog)
Boris Johnson's terrifying brain scan results
Sometimes the stupidity of politicians amazes even a cynic like me.
In the last election, the Tories won a stonking 80-seat majority by breaking through Labour's 'Red Wall'. While Labour were pushing woke greeny crap and identity politics and globalist anti-British propaganda, the Tories (guided by Cummings and Caine) appealed to voters with a practical patriotic message of "get Brexit done" and make Britain into a free sovereign nation again.
Unfortunately, in the last few days the Tories and bonking Boris 'Bluffer' Johnson in particular, seem to have forgotten why and how they won the last election. Allegedly under the influence of his latest  f**k-buddy (Princess Nut Nut) and her chums, our priapic PM has expelled the two people who guided his EU Referendum and election victories and has started blethering about precisely the same woke, greeny rubbish that helped Labour lose in the 2019 election.
Most Brits want our government to focus on finalising the Brexit negotiations and getting us out of the seemingly endless and pointless Chinese plague lockdowns. So, what does Bonking Boris do? He starts waffling about Britain's supposed 'green new deal' and brings forward the ban on selling petrol and diesel cars to 2030.
This is total madness. Crappy greeny flatulence from our blustering excuse for a prime minister is not why voters in Labour's 'Red Wall' constituencies abandoned Labour and voted Tory.
Why has Johnson become a crazed eco-idiot when there are real practical problems like Brexit and Xi's Kung-Flu to be managed? Part of the reason is that there's some big environmental conference in Glasgow (I think) in 2021 which will be chaired by Johnson. He hopes that by being the first country to ban petrol and diesel cars he'll be able to grandstand what a wonderful person he is in front of all the other world leaders. This will be adoringly reported as a tremendous 'triumph for Britain' by the BBC and C4 News while the Chinese and other Asian countries, busy building ever more coal-fired power stations, will just be laughing at our stupidity as Johnson, encouraged by his latest bed-fellow and the British mainstream media wrecks what little is left of the British economy by pushing up energy prices thus making British companies uncompetitive.
But I can also reveal that Boris Johnson has recently had a brain scan and I have exclusively been given access to the results of Johnson's brain scan (see image below)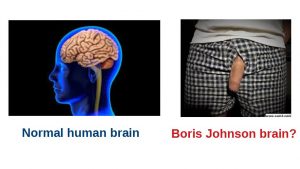 A few facts for our incompetent rulers
But the banning of sales of petrol and diesel cars from 2030 is just part of the economic suicide our country is committing due to over 90% of our useless, greedy, expense-fiddling, self-serving MPs voting for the (IMHO) cretinous Ed Miliband's Climate Change Act.
The banning of gas cookers and central heating from 2025 is the start of the roll out of the Climate Change Act which decrees that ALL households must cook and heat by electricity by 2035.
The trouble, as we all know, is that 99% of our political masters can't do even simple arithmetic:
Around 18,000,000 homes in the UK are currently heated by gas. In 2025 (and no later than 2035, 10 years being the lifetime of an average gas boiler) these will all be replaced by electrical heating. An average gas boiler is 25KW. An average person comes home from work at, say, 6pm and turns on the heating (25KW), plugs in his Electric Vehicle (8KW), turns on the oven (5KW) and takes a shower (7KW) – all at peak demand time.
Thus each household will be consuming electricity at the rate of 43KW at peak. Let's call that 40KW to make the sums simpler for our worthless PM and equally worthless MPs to understand.
Thus at peak time the UK will need: 18,000,000 x 40KW = 720GW. THIS IS MORE THAN *TEN TIMES* THE UK'S CURRENT PEAK REQUIREMENT of 60GW.
It is the equivalent of 180 Drax sized power stations. Oh, and then there is the replacement cabling required to carry ten times the current! Every street in every village, town and city must be dug up and cables replaced with ones that are ten times thicker!!
As they say, "Go figure!"• But our useless MPs can't manage that.
Our government's scientific knowledge would fit on the back of a postage stamp, which is partly why it comes up with these stupid ideas about banning gas central heating and banning the sale of petrol and diesel cars and, similarly, makes a spectacular hash of handling the coronavirus 'crisis'. The other problem is that the PM simply seems to bow down to the (IMHO) bird-brained urgings of a 32-year-old art history and theatre studies graduate referred to by some (former?) Downing Street insiders as "Princess Nut Nut" for reasons I'll leave to your imagination.
Boris may get lots more sex by his apparent grovelling subservience to his latest fancy. But this doesn't end well for Britain!
The Great Reset
If you've got loads of time on your hands, here's a longish (more than 30 minutes) video in which Paul Joseph Watson interviews Breitbart's James Delingpole about "The Great Reset". They do waffle on a bit. But still they do make some interesting points: