(Tuesday/Wednesday blog)
Here's a cheering picture to start the day. It's the UK's National Debt as a % of GDP from 1993 up till June 2020:
This is bad. But the situation will be much worse by end of the year as our Government has just magicked about £125bn from who knows where while shutting down large parts of the economy for yet another month.
However, Britain is not alone in this. Thanks to the Chinese plague, you could draw the same chart for pretty much any Western country.
Here's the USA's debt as a % of GDP – notice the nice almost vertical line in 2020 as Xi Pingpong's Chinese plague was unleashed: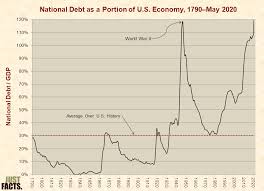 You ain't seen nothing yet
But these two charts don't do justice to what's coming. As tax revenues collapse due to the economic contraction caused by Xi's Kung-Flu, Western governments will be forced to borrow ever more to keep public services solvent as people have become used to getting free stuff always paid for by someone else. Thus borrowing will shoot up and the debt to GDP ratios will get ever worse. Here's a projection for the US: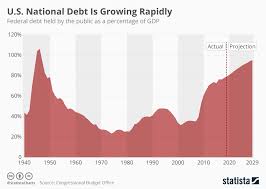 This will push many Western economies into a downward death spiral in which increased borrowing leads to increased interest payments leads to more taxation leads to lower economic growth leads to more borrowing leads to increased interest payments etc etc.
This death spiral will be made even more precipitous by the double suicide being committed by most Western governments:
pushing up energy prices due to ludicrous 'climate change' policies while our Asian friends build ever more coal-fired power stations to give them cheap energy and make their companies more competitive
opening our borders to millions of benefits-scrounging, uneducated, unemployable, often criminal Third-World migrants whose costs will wreck our social security systems and whose failure to integrate will cause havoc and violence in our societies
And here are the debt clocks for many of the world's largest economies:
https://www.usdebtclock.org/world-debt-clock.html
Notice how high the debt to GDP ratio is for most Western economies and how low the debt to GDP ratio is for most Asian countries.
The rise of the new Chinese empire
Probably the most important piece of news of the last few days was the signing of a massive trade deal – the Regional Comprehensive Economic Partnership (RCEP). The RECP has been under discussion since 2012 and is made up of 10 Southeast Asian countries, as well as South Korea, China, Japan, Australia and New Zealand. It will cover about a third of the global economy. And with its 1.4 billion population, China will be the dominant member. Moreover, China's 1.4 billion population is more than 50% larger than the total populations of the USA and Europe combined.
But as Asia rises (the green line on the chart below), the USA's (orange line) and EU's (blue line) share of the global economy continues to decline: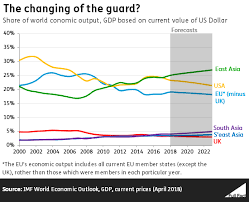 As we enter the Asian era, whatever happens in the West is becoming ever more irrelevant.
Better get your grandchildren learning Chinese so they can communicate with their new overlords?
Oh, and maybe this is a good excuse to include my "Wuhan video" about how the lying, corrupt, disease-spreading Chinese have used their virus to gain global domination?