(weekend blog)
Fury at the Palestinian-adoring BBC
The first item on the Britain-loathing Broadcasting Corporation's news this morning was the signing of a peace treaty between the Sudan and Israel. The BBC's supposed 'journalist' couldn't hide his fury at another success for Trump and Israel. The only person interviewed by BBC News was a Sudanese 'expert' who claimed the whole peace treaty was worthless and should never have been agreed.
But the peace treaty might be worth something to the hundreds of thousands of Sudanese who are starving due to their own government's incompetence and corruption: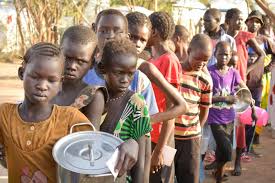 These people might now have the chance to benefit from the little US aid that their own venal politicians don't loot.
But the BBC's hatred of Trump and Israel is so deeply-ingrained that I believe most BBC reporters would rather see mass starvation in the Sudan than report anything that would credit either Trump or Israel.
The cure is worse than the disease
I'm not a "lockdown denier". I can understand why – when we saw the scenes of people gasping for breath and dying in the corridors of Italian and Spanish hospitals – many other countries imposed lockdowns. Our politicians could never allow the scenes we saw in Italy and Spain.
These lockdowns clearly slowed down the spread of Xi Pingpong's lab-manufactured Chinese plague. Although the lockdowns had a disastrous side-effect. In their rush to clear out hospitals to make room for the expected avalanche of Covid-19 patients, political leaders in the UK, New York and Sweden and other countries sent tens of thousands of elderly patients out of hospital into care homes without testing them for Xi's deliberately-spread virus. The result, as we now know, was an extremely effective culling of the care-home population.
But that was then. We now know a lot more about Xi's plague. We know who will suffer serious symptoms and who will breeze through it often hardly noticing they ever had it. We know that, while the 1918 Spanish flu killed millions of mainly young people, the average age of those dying from Xi's Kung flu is around 82.4 years. Given that the UK's average life expectancy is (I think) 81.15 years, this sort of suggests that most of us really have little to fear from Xi's disease.
In fact the evidence is now mounting that more people will die from results of lockdowns and ensuing poverty, joblessness, family breakdown, mental stress, failure to be treated for other conditions etc etc than will ever be killed by Xi Pingpong's virus.
How Xi Pingpong must be laughing at our rulers' incompetence as our rulers wreck most Western economies while China increases its dominance of the world economy:
Here's the inimitable Tony Heller questioning our rulers' obsession with controlling Xi's Kung flu:
Meanwhile, as the hyperventilating media hyperventilate about the supposedly "rising number of Covid-19 deaths", there's some information the bait-click media don't mention.
The death rate from flu and pneumonia fell by nearly one third in September, with the Office for National Statistics (ONS) saying people who would have ordinarily died around now may instead have lost their lives in the first coronavirus wave.
New monthly mortality figures from the ONS show that there were 2,535 fewer overall deaths in September compared to the five-year average – 34,400 compared to 36,935. Although the number of coronavirus deaths continues to rise, with 690 registered in September, the overall death rate is tracking a little below what would be expected for this time of year.
Moreover, as the Government tried to terrify us into submission to its ludicrous restrictions and rules, Coronavirus registered deaths in September accounted for just 1.7% of deaths in England, making the virus the 19th most common cause of death. The leading cause of death was dementia and Alzheimer's disease, accounting for more than one in 10 deaths.
The ONS said the biggest change in mortality rates had been in flu and pneumonia, which are far lower than the five-year average. Around 1,500 people would be usually expected to die of flu and pneumonia in September, but that has fallen to 1,132 – a drop of 27.7% in mortality rates.
Ooops – did our politicians and media 'forget' to mention that?
Joe 'China' Biden and the Chinese connection
There have been comments asking why I haven't addressed the corruption allegations being levelled against presidential candidate Joe 'China' Biden and his drug-addict son Hunter. Hunter Biden, as you'll know, has amassed an impressive fortune from slightly dubious figures in the Ukraine and China despite having a cv that smells worse than an open sewer in Mogadishu.
So, here's probably the most authoritative and detailed explanation of how Joe and Hunter got so incredibly rich:
https://www.zerohedge.com/geopolitical/blockbuster-report-reveals-how-biden-family-was-compromised-china