(Tuesday blog)
Poor Cressida, she ticks all the right boxes
You could be forgiven for feeling ever so slightly sorry for the head of the Met Police – Dame Cressida 'Dickless' Dick.
She ticks almost all the required diversity boxes – woman, lesbian, incompetent, woke, ugly. And yet the radical left is still unhappy with her. I write "almost all the required diversity boxes" because Dame Cressida misses three of the key diversity boxes – she's not a person of colour, she's not a Moozlim and she's not obscenely gravitationally-challenged.
On Saturday, approximately 100 BLM demonstrators alongside activists from the 4Front Project and Tottenham Rights gathered outside the headquarters of the Metropolitan Police Service (MPS) to denounce alleged cases of racial profiling against black people carried out by the Cressida Dick-led police force. Black Lives Matter protesters called for the resignation of Met Police Commissioner Cressida Dick and chanted "f*ck the police" outside force HQ Scotland Yard in London.
But the more Cressida and her ever-so-woke sidekick, Neil Basu, kneel and grovel to the BLM fascists, the more concessions the BLM fascists will demand.
Maybe it's time to get rid of Cressida and Neil and get some real police running the Met?
If they don't like it here, why don't they leave?
As far as I know, virtually no 'people of colour' were brought to the UK as slaves. In my limited understanding, they or their ancestors came to Britain willingly to escape backwardness, ignorance, disease, poverty, violence and a life lived in excrement-filled hell-holes in order to benefit from the decent civilisation we had created in the UK.
We have given them opportunities they would never have had in the hell-holes they have left. Yet they demand ever more from us: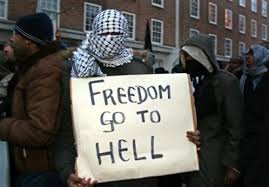 and we submit to their demands.
Why doesn't someone dare say "if you don't like it here, just leave"? After all, with the free education they have had in the UK thanks to the  enforced generosity of British taxpayers, surely their countries of origin would welcome them back to help rebuild those countries?
If you don't like it here – just leave. Goodbye!
Did fat Beccy eat all the birds?
Cressida Dickless may not be gravitationally-challenged. But here's the CEO of the RSPB, Beccy Speight, on C4 News yesterday evening:
Beccy was complaining to a suitably outraged John Snow about how human over-consumption was destroying many birds' natural environments as increasing amounts of land were being converted to agricultural use. Here's another picture of Beccy:
Dear Beccy, if anyone is consuming too much, maybe it's you. Or did you just eat all the birds?
The RSPB accounts don't tell us how much Beccy is being paid from our donations. I suspect it's close to £100,000 a year, but I can't be sure. However, clearly it's quite enough for Beccy Speight to enjoy some excellent meals from some fine restaurants.
Next time you donate to the RSPB, remember you're helping to feed fat Beccy.