(Friday/weekend blog)
Well, there's a pretty provocative blog title for you.
How to start today's blog? Hmmm?
Why didn't American Indians use the wheel?
Let's start in the USA. We know that American Indians had the ideal conditions for using wheeled vehicles of some sort. They constantly moved camp to follow their major food sources – usually bison (I imagine). And they had plenty of horses to pull wheeled vehicles. Yet for some reason, American Indians never worked out that pulling something on wheels would be rather more efficient and productive than dragging something along behind their horses:
How about Africans?
If you watch daytime TV, you'll have been bombarded by begging ads from the (IMVHO) overpaid, over-pensioned, self-serving big bosses at charities like Water Aid.
Invariably these ads feature children walking for miles to fetch stinking, stagnant, polluted water which they carry on their backs or heads:
If I was a nasty, racist cynic, I would probably suggest that if this had been Britain many thousands of years ago, four or five things would have happened:
The men of the village would have got together to discuss the water availability problem
They would have realised that a wheeled vehicle would be much more effective at carrying water to the village than sending small children to carry it
They would have designed some kind of cart or other wheeled vehicle to carry the water
They would have put together teams to collect the water probably even organising some kind of rota whereby every household with an able-bodied person took their turn in getting water for the village
Or else, they might even have thought about moving the village to where there actually was water
But a nasty, racist cynic might suggest that as this is Africa:
The men of the village spend all day sitting around on their arses doing absolutely nothing except chewing khat or some other crap and producing ever more children they can't afford to feed, clothe or educate
The women do all the work on the subsistence farm and in the home
Nobody has the brains or the motivational initiative to imagine a better way of getting water
Nobody has the IQ required to consider the wheel and put it to use to fetch water even though us evil colonialists brought wheeled vehicles to Africa hundreds of years ago
Nobody would ever have the brains or initiative to think of moving the village to where there was available water
But I'm not a nasty, racist cynic and therefore I would never dream of suggesting any of the above.
But it us remarkable that the Egyptians used wheeled vehicles thousands of years ago with chariots and probably to move material to build the pyramids and Sphynx and statues: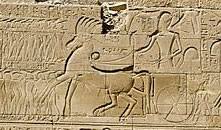 Yet the technology of using wheels didn't (from the little I understand) spread further south.
So, back to the question – "Would Africans ever have discovered the wheel?" – due to the need to be politically-correct, I have no opinions on the matter or any other matter that could in any way be upsetting for the woke, virtue-signalling, free-speech-loathing, West-hating, self-regarding, pig-ignorant, narcissistic fascists who increasingly control what can and cannot be said and written in Britain
African bungee-jumping?
(Warning satirical content! Warning satirical content! Warning satirical content!)
Anyway, to cheer us all up here are some of Africa's most highly-educated engineering students testing a bungee jump they have just designed.
As you'll see, there are a couple of small teething problems still to be sorted:
https://www.kaotic.com/video/1b412a20_20200719170645_t
Are you wasting your money on Water Aid?
And while we're on the subject of Water Aid, here are some possibly inconvenient truths:
From what I can see Water Aid raises and spends about £82m a year, has 806 staff and its chief executive gets a remuneration package of £148,204 (salary of £134,123 and pension contribution of £14,081). Just to put this into some context, I think the newish big boss of Oxfam gets a salary of about £120,000. One might wonder why Water Aid's chief executive should get bigger salary than the chief executive of Oxfam which has a budget (£434m) five times as large as Water Aid's and over 5,100 employees compared to Water Aid's 806 employees.
Who gets the money?
Of the £82m a year we give to Water Aid, around £60m theoretically reaches the Third-world poor and the other £20m goes on fundraising and managerial and administrative support. So, about £7.50 of every £10 raised supposedly goes to providing water and sanitation.
The largest recipients of Water Aid's (our?) money are Mozambique, Tanzania, Burkina Faso and Ethiopia. I have a feeling that the current Water Aid ad campaign is filmed in Ethiopia. But I'm not sure and don't really care.
I'm sure we'd all agree that these four countries are pretty poor. Or are they?
Let's have a look at supposedly poverty-stricken Ethiopia. The five richest Ethiopians are worth over $20bn. And there are now at least 15 billionaires in Ethiopia and an estimated 4,700 millionaires.
It would seem that the Ethiopian elites have more than enough money to provide clean water and sanitation for all their people without Water Aid's help and our money!
And anyway, the Ethiopians manage to keep reproducing at an extraordinary rate despite their grinding poverty. So things can't be quite as tough there as the bleating charities keep claiming:
There are about 100 million Ethiopians now. By 2050 there will probably be over 250 million. By the end of this century there might be over 500 million – more than the population of the EU. I suspect you'll find similar situations in every other country where Water Aid and similar charities claim the people need our money – explosive population growth, massive wealth for the corrupt, aid-looting, kleptocrat elites, appalling poverty for the ever-increasing, baby-producing masses and a comfortable, well-paid, tax-free life for the charity do-gooders.
These countries need birth control and a reduction in corruption, NOT ever more of our money!
Time to stop wasting our money on Water Aid? Time to stop wasting our money on Africa?