(weekend blog)
What's happening in Leicester?
As you'll all know a lockdown has been reimposed in the lovely, multi-cultural city of Leicester. The BBC and C4 News have had plenty of interviews with the good citizens of Leicester insisting they're victims of the Government failing to act fast enough while at the same time claiming that the new lockdown is unnecessary. But given that nobody is ever responsible for their own actions nowadays, it's obvious that the Government is somehow to blame for the fact that Chinese Covid-19 Kung Flu infections in Leicester are rising about three times faster than anywhere else in the country.
One thing I don't think the BBC and C4 News have mentioned is a strange correlation between the level of multi-cultural enrichment in Leicester and the level of Kung Flu infections.
In England as a whole, white ethnic Brits – those are the ones whose lives don't matter according to an Indian professor at my college when I was at Cambridge University – make up around 86% of the population: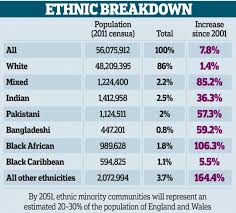 Our friends from South-East Asia made up only 3.5%.
These figures are from the 2011 census. So the percentage of white British would have fallen a bit since then and the percentage of our South-East Asian friends would have risen.
But in thoroughly-enriched Leicester, the ethnic breakdown is stunningly different:

In Leicester, white Brits are in a minority at around only 45% of the population while our friends of South-East Asian heritage are now probably well over 26%.
A local newspaper reported on the conditions in the city's 1,000+ clothing sweatshops in sunny Leicester:
"We have also heard of workers – positive for Covid-19 – being required to work throughout their sickness in order to fulfil orders."
Several local media have said they had "received reports that workers have been told to come into work – even when they showed symptoms of Covid-19 – otherwise they would lose their job".
"We have heard of several incidents whereby workers who had tested positive were told to come into work, and of managers telling workers not to tell anyone else about positive cases".
"We have received information which details numerous reports of furlough fraud, workers being forced to come into work while sick with Covid-19, workers wishing to isolate being denied pay, factories operating illegally throughout lockdown and of workers being forced to work in conditions of modern slavery."
https://www.leicestermercury.co.uk/news/leicester-news/leicester-textile-firms-flouting-lockdown-4280860
How nice it is that our friends from South-East Asia have enriched our formerly boring, mono-cultural country with their much more flamboyant business practices.
But anyone daring to suggest that there is any connection at all between Leicester's Kung Flu infection rates and the city's level of multi-cultural enrichment must be a racist and therefore must be cancelled and destroyed.
Here are the people of Leicester and the mayor of Leicester and a couple of 'experts' bleating and moaning and all blaming the Government for Leicester's massive increase in Chinese plague infections.
After all, it can't be Leicester's multi-culturally enriching citizens who are responsible for their Kung Flu situation, can it?