(Monday/Tuesday blog)
Yes, you read the headline correctly. "Blacks' Lies Matter" and not "Black Lives Matter". All the lies our coloured friends and their (IMVHO) weirdly mentally-deranged, mouth-frothing BLM-fascist supporters spew out about our supposed oppression of Blacks do matter. They matter because they are causing mistrust, division, conflict and violence in our extremely tolerant country.
Maybe Blacks are responsible for their own underachievement?
I have previously shown how an astonishing 75% of African Americans live in one-parent families: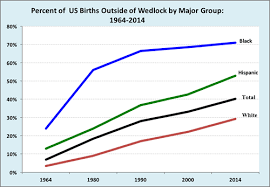 And I have pointed out that it was the great Nobel-Prize-winning Saint Obama himself who warned that children from one-parent families were:
5 times more likely to live in poverty
9 times more likely to drop out of school
20 times more likely to end up in prison
than children from two-parent families.
You can't blame supposed 'institutional racism' for that!
What do you say about that, world-acclaimed historian and F1 driver Lewis Hamilton and Prince Harry the bandwagon-jumping Hypocrite and all the other ultra-woke BLM supporters? Was Saint Obama lying? Please tell us. We really want to know.
We see a similar pattern in Britain to the US, though we are still far from US levels of single-parent families. But black British children are two and a half times more likely to live in single-parent households than white children.
The single parent statistics published on the gov.uk site in 2019 show what percentage of different ethnic groups were lone parents according to the 2011 census. Within each ethnic group monitored, the percentage of family types which are single parents are as follows: black (24%), mixed (19%), 'other' and white (both 10%) and Asian (8%).
You can't blame supposed 'institutional racism' for that!
Black Wives Fatter?
Then I looked at another indicator of societal under-performance – obesity levels by ethnic group:
A slightly greater percentage of white men are obese than black men in the UK. But a massive 32% of UK black women are obese compared to just 19% of white women and 17% of Asian women: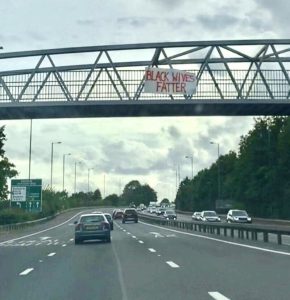 You can't blame supposed 'institutional racism' for that!
I know these are just two sets of figures. But I could list many more pointing to the same conclusion – our coloured friends are largely responsible for their own under-performance. But they keep blaming us and our supposed 'institutional racism'
Maybe Blacks are doing better than BLM admit?
There's one big lie repeatedly vomited at us by the BLM fascists – Blacks fail to achieve high levels of education due to supposed 'institutional racism'. Here's a typical quote from some (IMHO) pig-ignorant, worthless, lefty teacher or lecturer: "The fact is, as anybody who works in higher education, as I do, will tell you. Higher education in this country is blindingly white and it is blindingly middle-class."
But let's take a moment to look at what is really happening.
Here are the achievement figures at age five by ethnicity: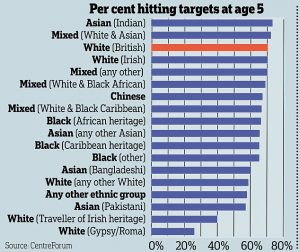 The standard narrative is that British Blacks start their education at a massive disadvantage to us ghastly racist Whities. But these figures come from a lefty think tank and suggest that there isn't that much difference by ethnicity at age five.
Now let's look at what happens by age sixteen: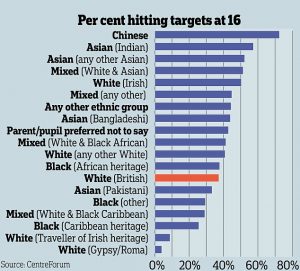 By age sixteen, both us supposedly 'racist' Whities and British Blacks have fallen much further behind other ethnic groups.
And then (if you can cope with yet another graph) here's what happens with higher education: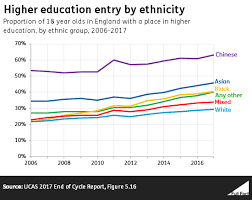 Ooops! A greater percentage of black six-formers go on to higher education than white six-formers. How is that possible given the UK's supposed 'institutional racism'?
What I suspect is happening is that the black British community is splitting. Many black British realise there is no institutional racism (especially in education where the majority of teachers are lefty, progressive, UK-hating, democracy-loathing, Guardian-reading, EU-adoring dickheads who believe their main job is to indoctrinate children to hate their culture, their country and their history and to bow down to the false gods of supposed Man-Made Global Warming and supposed Institutional Racism). And so these black British are adopting the dominant culture of the UK that it's best to get an education, get a decent job and raise a successful family.
But unfortunately there are many black youths who prefer the Third-World gangsta, rapsta culture of crime, drug-dealing, gang warfare and violence rather than getting a decent education and a decent job. They would rather spend their lives as worthless, uneducated, violent, criminal subhuman excrement causing utter misery for their (usually one-parent) families and for every single unfortunate person they come into contact with. After all, they can always blame supposed 'institutional racism' for their own failure to make any contribution whatever to society. And they'll be enthusiastically supported in their claims of victimhood by the BBC, C4 News and the Guardian.
Blacks' Lying Massively?
Claiming that "Racist police aren't just in America" an apparently famous black British athlete called Linford Christie wrote this week:
The Met Police responded to Christie's allegations with a lengthy statement with a quite different version of events than that given by Mr Linford Christie:
It said: "At around 1325 on 04/07/2020, officers from the Territorial Support Group were patrolling in the W9 area in response to an increase in youth violence involving weapons.
"A vehicle with blacked out windows made off at speed from the officers, travelling the wrong side of the road. The officers eventually caught up with the vehicle which was stopped in Lanhill Road W9. The driver initially refused to get out of the vehicle. The occupants, a 25 year-old man and a 26-year-old woman, were informed that they were being detained for the purposes of a search under Section 1 of the Police and Criminal Evidence Act 1984.
"After a search was conducted on the persons/ vehicle, no arrests were made and the occupants were allowed on their way. Each stop is dealt with on its own merits at the discretion of the individual officers involved taking into account various aspects including behaviour and compliance".
Of course, we don't know what really happened. Mr Christie blames 'institutional racism' for the athletes being stopped. I would humbly suggest that issues like 'blacked-out windows', making off at speed, travelling on the wrong side of the road and refusing to get out of the vehicle when asked might have had more to do with the police's suspicions of wrongdoing and subsequent actions than supposed 'institutional racism'. But no doubt the apparently world-famous Linford Christie would disagree with me.
As for Linford Christie himself – from what I can see, his son was jailed for 15 months in 2012 for allowing his flat to be used for drug dealing and then jailed again for 4 years in 2018 for dealing heroin and crack cocaine. Just thought I'd mention that as it might be relevant to Mr Christie's attitude to the police? Or it might not?
Blacks' Lies Matter
I think a lot of people are getting fed up with the continuous barrage of claims about the British being "institutionally racist" when we know it's a pack of lies.
Here's a rather wonderful interview from Sky TV where the interviewer (a very fat Adam Boulton?) is completely confused when the interviewee, a former police officer, dares blame black British youths from one-parent families for the violence and poverty in British black communities. So Boulton seems to cut the interview short to censor the policeman's 'politically-incorrect' views :