(Wednesday blog)
Our irrational fears
Let's start with a dictionary definition – a definition of the word "phobia" (which can be used as a word or a suffix). A phobia is an extreme or irrational fear of or aversion to something".
Now let's look yet again at the chart I often use in my blog. This is probably the most important chart you will ever see.
It is, of course, the chart of the population explosion in (IMHO) poverty-stricken, slum-filled, hopeless, violent, war-torn, failed-continent Africa compared to the declining population in (IMHO) once scientifically-advanced, civilised, prosperous, democratic Europe. Some stupid people might find this chart frightening:
Some people might find the fact that Africa's population increases by over one million a week worrying.
Some people might fret over the fact that, if Ethiopia couldn't feed its 40 million population when Saint Bob did his BandAid thing, how Ethiopia can feed 100 million now and almost 200 million by 2050:
Some people might be concerned that Nigeria's population is set to soar from less than 200 million now to around 300 million by 2050:
Some people might even start to imagine that the only way Africa will be able to handle its population explosion is by exporting tens of millions to Europe: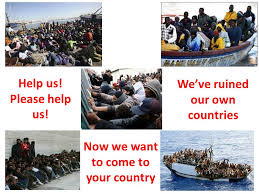 But, according to our leaders, these would be irrational fears – they would be what our rulers call "Afrophobia"
Hooray for the European Union
Fortunately for us, we have the glorious EU who have pledged to tackle their stupid, blighted, ignorant, plebby citizens' Afrophobia.
Here's a link to the EU's great plan to deal with our clearly irrational fear of Africans rapidly multiplying and then invading our dying continent:
https://www.europarl.europa.eu/doceo/document/TA-8-2019-0239_EN.html
The document is an EU Resolution to deal with Afrophobia.
The Resolution falls into three main parts:
a "having regard to" section which just lists a mountain of EU conventions and resolutions and rules and procedures and other such bollox
a section organised by letters of the alphabet which puts the blame for the underachievement of Europe's (officially) 15+ million (but probably 30+ million) people of African descent on white Europeans' Afrophobia and at no point suggests that the good folk from Africa may also have played some part in their own failure to integrate successfully and thrive
a section numbered from 1 to 28 which sets out all the duties of EU countries and citizens to deal with their Afrophobia which clearly has been holding Africans back and preventing them reaching their full potential while living in Afrophobic Europe. These duties include paying reparations to some African countries for Europeans' historical acts of aggression against Africans
Thank goodness we have the European Union to help stupid, bigoted, backward, patriotic European citizens to overcome their irrational fears of Africa and Africans – their Afrophobia. Soon we'll all be living in a fantastic multi-culturally-enriched paradise once the EU has successfully crushed any signs of Afrophobia: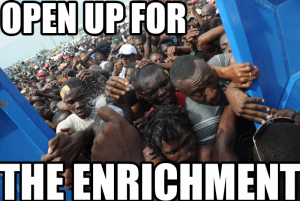 Soon every European citizen will realise that Afrophobia is a totally irrational fear as Africans are bringing all sorts of super benefits to our jaded mono-cultural countries: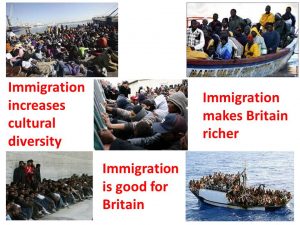 Hopefully readers will feel a lot more positive about Europe's future now they have seen the EU's fine and bold Resolution on Afrophobia and now they know how actively our tremendous EU leaders are working to combat the evils of Afrophobia.
Hooray for the European Union!