(Tuesday blog)
Sweden enriches Denmark
Good news! Most people know that multi-cultural enrichment has turned Sweden from Europe's most boring, peaceful and bucolic country:
into a colourful, vibrant and ethnically-diverse paradise: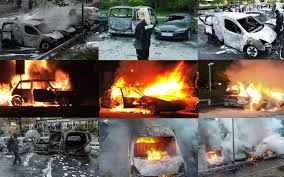 And now this enrichment is spreading to Sweden's neighbour – Denmark.
Following a series of bomb attacks and shootings in Copenhagen, carried out by 'New Swedes', Denmark has decided to institute border controls to try to stop the flow of heavily-armed and deeply-criminal 'New Swedes' crossing from Sweden to Denmark.
However, given that political correctness will probably prevent the border guards from using racial profiling to stop the 'New Swede' criminal gangs, one might wonder how effective these new border controls will be.
Well done Sweden. You've not only committed cultural and national suicide, you've also started inflicting chaos, violence and anarchy on your closest neighbour.
The joys of national suicide
And while we're on the subject of countries committing cultural and national suicide, below is a shortish (6 minutes) video of a speech given in the French Parliament by a member of Marine Le Pen's party.
Any politician daring to give such a speech in the British Parliament would be shouted down by our virtue-signalling, UK-hating, surrender-monkey, globalist, libtard MPs, vilified by our ever so politically-correct media as a bigot and racist, certainly have their political career destroyed and be ostracised as a social leper.
Free speech anybody?