(Monday blog)
Wrong continent
Our favourite Messiah, Saint Greta the Brainwashed, has a smallish problem. To great fanfare from the BBC and other sycophantic media, Saint Greta the Ignorant voyaged across the Atlantic to preach to us all about non-existent Climate Breakdown.
First major stop was New York where the Great Green Messiah ranted about her whole life being destroyed by something was was just a fiction of her pushy parents' imagination. But perhaps the most significant incident of Greta patron saint of ecofascists' visit was when she was totally ignored by Donald Trump: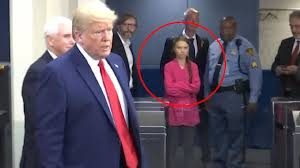 Seeing her utter fury at not being the centre of attention, one could be forgiven for worrying what will happen to what little is left of this deluded child's mental health when she is cynically discarded by the ecofascists and goes back to being a total nobody.
Next stop for the Saviour of Mankind was a climate conference due to be held in Santiago, Chile. But the government of President Sebastian Pinerto decided last Wednesday to call it off  because of the unrest in the capital. Scores of people have been killed and injured in weeks of rioting over the usual South American corruption, economic inequality, gross mismanagement and social problems
After Chile withdrew, there was concern amongst the 20,000+ freeloading attendees (yes, 20,000+ attendees!!!) that the annual talks might have to be scaled down, postponed or even abandoned. Or the conference could have been replaced by video conferencing. But then everyone would miss their free flights and free hotels and free dinners and chances for loads of environmentally-friendly sex with each other. We can't let climate change get in the way of that, after all
However, on Friday afternoon, the UN's top official on climate change, Patricia Espinosa, issued a terse statement that COP25 would go ahead on the original dates, 2-13 December, but in Madrid.
Saint Greta the Deluded's problem
Greta Thunberg, the Swedish climate activist who sparked the global student strikes, had travelled as far as Los Angeles without flying and was planning to continue to Santiago in time for the conference. On Friday she made a plea for help getting back to Europe in time for the conference. "It turns out I've travelled half around the world, the wrong way," she tweeted. "Now I need to find a way to cross the Atlantic in November … If anyone could help me find transport I would be so grateful."
DiCrapio to the rescue?
While she was in Los Angeles, Greta the Magnificent had a meeting with that great eco-warrior, Leonardo DiCrapio:
DiCrapio, 44, is famous for once making an 8,000-mile round trip in a private jet from Paris to New York in order to accept an environmentalism award.
Leonardo DiCrapio, one of Hollywood's leading stars and a prominent environmental campaigner, praised teenage climate change activist Greta Thunberg following their first meeting. Saint Leonardo the Green said that 16-year-old Ms Thunberg's message should be a "wake-up call to world leaders everywhere that the time for inaction is over" and wrote on Instagram: "There are few times in human history where voices are amplified at such pivotal moments and in such transformational ways -but @GretaThunberg has become a leader of our time".
Here's a nice picture. It's a luxury yacht called Topaz and is (I think) owned by an Arab oil sheikh:
It's just one of several luxury yachts which I believe was chartered over the years by Saint Leonardo the Eco-warrior, presumably so he can enjoy his hols without coming into contact with worthless plebs like you and I. It looks pretty environmentally-friendly and carbon neutral, don't you think?
Perhaps DiCrapio could rent this luxury yacht, or a similar one, to get his new best friend for life, Mad Greta the Absurd, to the conference on time?
Or Saint Greta could just go standby on a flight that was flying anyway? That would be the most eco-friendly way of reaching her important 20,000-attendee conference. But then she wouldn't get all the PR her parents are desperate for. So flying is definitely out.