(Tuesday blog)
Giga-bollox – using absolutes and never relatives
I've written before how Greenies try to terrify us by never putting their claims of impending disaster into context.
For example, when Greenies howl about human activity releasing around 750 giga-tones of CO2 into the atmosphere each year it sounds pretty impressively frightening. "750 giga-tons!!!" Crikey, that's a lot, isn't it? And it certainly sends the tens of thousands of snowflakes, pouring out of our polys pretending to be universities with their degrees in Gender Studies and Golf Course Management, into a bit of a tizzy. And so we have the Eco-loons with their idiotic Extinction Rebellion protests and the School Strike all the other crapulous protests.
What the Greenies are doing is using and abusing an 'absolute number' to scare snowflakes and other scientifically-challenged members of our society. But when you put the 750 giga-tons into context, using a 'relative number' – that CO2 as a percentage of the atmosphere is increasing by 0.0002% a year, that really doesn't sound quite so frightening. And so the Greenies never mention this rather inconvenient truth.
That brings me to a picture a reader sent me. Right down in your lower right-hand corner you'll see the total amount of CO2 that human activity has contributed to the atmosphere in the last 200 years: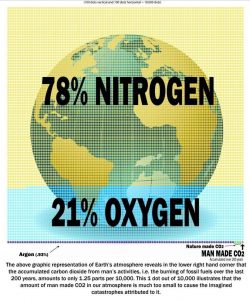 Ooops! Not that impressive, huh? And the Greenies would have us believe that this miniscule amount of a trace gas will lead to the extinction of mankind. And, of course, the Greenies have managed to market CO2 as some kind of deadly poison when, in fact, it is so beneficial to plant growth that many farmers cultivating using greenhouses install CO2 generators in their greenhouses to improve growth and crop yields: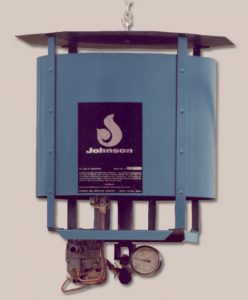 Oh, did the Greenies forget to mention that too? How remiss of them.
Climate Change will lead to higher, no lower, no higher, no lower………………..
There's no room here to write about the latest scare – the supposed melting of the Greenland glaciers. So instead, here's Tony Heller debunking supposed scientists' claims that Global Warming will lead to higher, no lower, no higher, no lower, no higher………….water Levels in the Great Lakes (in case any geographically-challenged snowflakes are reading this, the Great Lakes are big bits of water between the USA and Canada):