(Thursday blog)
I'm sure many readers are avid sports fans and so will be gasping to hear the final score for the 2019 Ramadanadingdong murdermania.
Here it is:
Only 163 attacks in the name of the Religion of Wonderfulness and Tolerance and a mere 821 dead.
The 2019 results were disappointing, but pretty much in line with those from 2018:
Just 182 attacks and only 854 kills.
Oh how I miss the good old days of mass slaughter. For example, in 2017 the lads were really putting in an effort: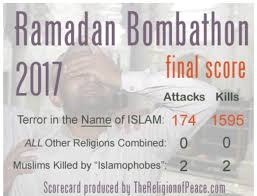 There were only 174 attacks in 2017. But these 174 attacks managed to send no fewer than 1,595 innocents to Paradise or wherever.
And then there was 2016:
In 2016 the lads notched up 238 attacks dispatching a much more impressive 1,850 innocents.
And let's not forget 2015 – that was a time when the lads really knew how to score: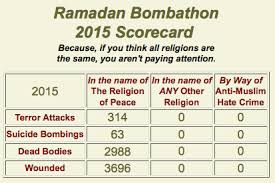 Yup, in 2015 the lads managed to whack 2,988 innocents in 314 religiously-inspired attacks.
Clearly the lads are losing their touch. In fact 2018 and 2019 have been very disappointing indeed. Let's hope the lads can up their game in 2020 so we can get that scoreline back up to 2015, 2016 and 2017 levels. After all, less than a thousand murdered in the 2018 and 2019 Ramadanadingdongs is a pretty pathetic result.
Oddly, the BBC and C4 News and other mainstream media don't mention these important sporting results.