(weekend blog)
A month or so ago, I suggested the lying, treacherous Tories were committing a double suicide.
Suicide 1 – deliberately sabotaging Brexit (well done Mr Hammond and Mr Grieve, you utter assholes!)
Suicide 2 – plotting to prevent the only electable replacement to the worthless, UK-hating May – Boris Johnson – from becoming the next Tory leader.
But the situation now is much worse than back then.
It's all about competence
Nobody likes the Tories. But we repeatedly vote for them because we believe they are more likely to display some kind of patriotism and managerial competence in government than the financially-incontinent Labour or the eco-idiot LibDems. But when the Tories are exposed for betraying their own country and total managerial incompetence, what reason is left to vote for them?
All we have seen from the useless Tories since the EU Referendum is servile betrayal of our country's interests and incompetence after incompetence after incompetence
First we had the complete bungling/sabotage of Brexit as the lying scumbag May sidelined two Brexit secretaries while taking orders from her Remoaner civil servants and grovelling to Barnier and the useless Brussels Drunk.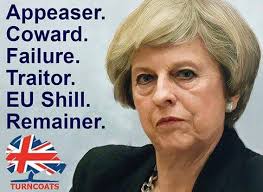 Then we had the appalling farce of the pointless Tories and especially the supposedly 'influential', but actually laughably ineffetive, 1922 Committee failing time and time again to drag UK-despising Remoaner May from Downing Street.
And now we have the pathetic spectacle of the Tory leadership campaign to replace the vile bliar May. If the Tories had any sense, they'd choose between 3 or 4 serious potential candidates, get the thing over with as fast as possible and get on with Brexit. Instead we have at least 12 self-declared challengers – most of whom are (as one journalist wrote) "not even household names in their own households". Moreover, most of them know they have no chance of winning. They are not putting themselves forward through any sense of what's good for our country. Most are only standing in order to enhance their own political careers and their own earnings potential. At a time of national emergency, with the very real prospect of a Corbyn/Maduro (sorry, I meant Corbyn/McDonnel, of course) government, all these self-serving, arrogant Tory scumbags can think of is their own personal career and financial interests. To Westminster insiders, this may look like democracy in action. To most voters outside Westminster, this looks yet again like even more Tory betrayal, stupidity, greed and total chaotic managerial incompetence.
And once the Tories have lost any semblance of patriotism and managerial competence, what reason is left to ever vote for them again?
None as far as I can see.
So next week I'm going to donate £500 to Nigel Farage's Brexit Party in the hope that, if thousands more do the same, the treacherous, lying, incompetent, self-serving, Europhiliac, surrender-monkey Tories will be rapidly consigned to the garbage bin of history where they so deservedly belong.