(Wednesday/Thursday blog)
Who is the Islamocoolest of them all?
Here are some really Islamocool dudes: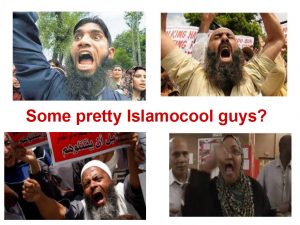 And Britain has produced a couple worthy competitors for the Islamocoolest lunatic in the world: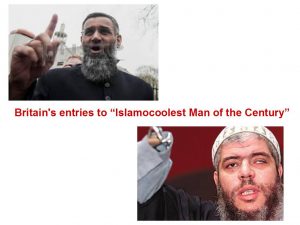 But when it comes to being the most Islamocoolest of them all, most people would have thought that Osama Bin Laden could win: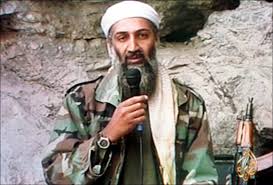 After all, in one of his greatest hits, he had thousands of hated infidels killed in the 9/11 attacks. But he was also responsible for hundreds of other Al Qaeda attacks around the world massacring thousands more.
But Osama got wasted – even though our allies, the ever-trustworthy Pakistanis, had hidden him right next to a large Pakistani military base in the expectation that nobody would dare harm him while he was under Pakistani military protection. (And we still give hundreds of millions in foreign aid to a country which has repeatedly shown it is our sworn enemy and which rather likes murdering Christians):
The bearded guy screaming for Aasia Bibi's death is also pretty Islamocool, don't you think?
But now when it comes to being the Islamocoolest dude of them all, there's a new kid on the block. It's Al Big Daddy (also known as Abu Bakr al-Baghdadi)
Don't you just love Al Big Daddy's two-toned beard? Osama had a great beard. But it was a pathetic, shriveled weed compared to Al Big Daddy's two-toned monster bush. Big Daddy is just so cool. He's Islamocool. In fact, he's the Islamocoolest hombre around. Big Daddy is responsible for tens of thousands of extremely brutal deaths and, unlike our former rockstar terrorist Osama Bin Laden, Al Big Daddy is still very much alive in spite of both the Russians and the Americans claiming they had long since sent him to Paradise.
I expect we'll see many of our friends from the Religion of Total Peacefulness adopting Big Al's fashionable two-tone beard look. It's what gets the ladies really turned on and flocking to some Third-World hell-hole to be serially f****d by Big Al and his faithful followers.
By the way, why do these bearded chappies always seem so angry?
More gibberish from a bearded lunatic?
On a slightly more serious note, I won't even lower myself to comment on this video clip of a leading but modestly bearded researcher from our favouritest religion except to say that there are tens of millions, or even hundreds of millions of possibly low-IQ, inbred, retarded, bearded madmen, who believe the garbage he spews out. And that's a problem for the world:
https://www.memri.org/tv/kuwait-researcher-muhanna-repeats-blood-libel-jews-are-treacherous-usurious