(Friday blog)
Oh what joy! Oh what happiness! Hallelujah! The NHS, our national religion, was 70 years old yesterday. There were even church services giving thanks to God for the creation of our great NHS. At such a time of national rejoicing, nobody dares become a party-pooper. Nobody dares suggest the NHS isn't the "envy of the world". Nobody dares piss on the NHS's parade.
Nobody dares mention how poorly Britain performs on 5-year survival rates on the main cancers. Out of 27 advanced European countries, here's the UK's position:
Lung cancer – 21: colorectal cancer – 17: colon cancer – 12: prostate cancer – 16: breast cancer – 14: pancreatic cancer – 20: brain cancer – 21: stomach cancer – 24.
Hmmm. Not so great. Unfortunately our mainstream media tends to not mention these rather unfortunate figures as to criticise the NHS is akin to blasphemy.
But what about survival rates for other common conditions like strokes and heart attacks?
Here's how we compare on mortality rates for the two main types of stroke 30 days after admission: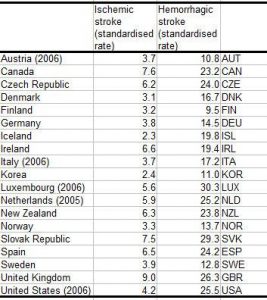 Two to three times as many people die from strokes in our hospitals than in many other similarly advanced countries.
And here's how we rate on mortality from cardio-vascular disease per 100,000 of the population: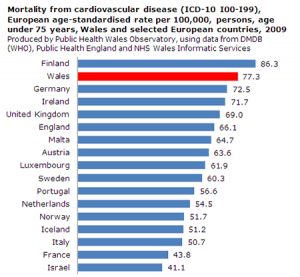 Much worse than Portugal, Italy and France. Though, while mortality rates for cancers and strokes are clearly driven by the quality of healthcare provided, the above results for cardio-vascular mortality may have as much to do with diet and lifestyles as with the quality of medical care.
Given the £150bn a year we hose on to our beloved NHS, how are we doing on the number of hospital beds per 100,000 people?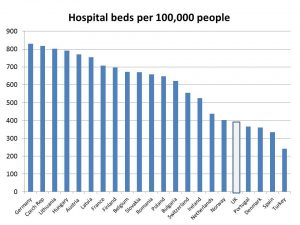 So, given the appalling outcomes listed above, you might be wondering where all our £150bn goes.
Here' a hint: when New Labour first came to power in 1997, the NHS (England and Wales) had around 200,000 hospital beds and 25,000 managers (8 hospital beds per manager). By the time New Labour were replaced by the Coalition, the NHS (England and Wales) had around 140,000 hospital beds and 43,000 managers (3.2 beds per manager).
Moreover, NHS managers' and executives salaries have massively increased siphoning off much needed money from front-line services.
There are many dedicated and skilled medical staff in the NHS. But, unfortunately, the NHS suffers from an almost terminal condition – managerialism. Like so many of our public services, the NHS is being destroyed from within by the new priviliged, parasitic ruling class of useless, over-paid, over-pensioned managers.
(Today's blog is dedicated to the Chief Executive of my local hospital where I was once an elected governor until I resigned in protest at issues I cannot mention for legal reasons)