(Friday/weekend blog)
Hooray for Female Genital Mutilation (FGM)!
I found the video below about FGM quite difficult to watch. In fact I felt quite squeamish and stopped watching during the first couple of minutes.
The NHS in England recorded 5,391 new cases of FGM in the past year.
Almost half involved women and girls living in London, NHS Digital found. A third were women and girls born in Somalia, while 112 cases were UK-born nationals. Most of the cases were spotted by midwives and doctors working in maternity and obstetric units. The majority had originally had FGM done to them abroad and as a young child.
The practice is illegal in the UK , has been illegal for around 30 years and it is compulsory for family doctors, hospitals and mental health trusts to report any new cases in their patients.
FGM – intentionally altering or injuring the female external genitalia for non-medical reasons – potentially carries a sentence of up to 14 years in jail. But as far as I know, there haven't been more than 2 prosecutions, if that. Yet you would have thought that it would be something that was fairly easy to prove.
One law for us – no laws for them?
Once again, it seems that under our ever-so-progressive, ever-so-liberal libtard politicians and police, our laws are applied selectively. If white indigenous Brits commit animal cruelty, we are prosecuted by the RSPCA and the authorities. Yet our friends from the Religion of Progress and Peace (ROPP) are allowed to continue with their cruel Halal slaughter and nobody bleats a word in protest. In fact, they are helped by our rulers' refusal to force retailers to mark whether meat has been humanely or barbarically slaughtered
If a white, indigenous Brit was to rape an underage girl (especially a girl from migrant racial group) there would be all hell to pay. Yet for over 14 years gangs of supposed 'Asians' (actually members of the ROPP and mostly from Pakistan and Bangladesh) were allowed by the politicians and police to rape over 50,000 white under-age British girls in towns across Britain and nobody did anything. Eventually, when the scandal broke, there were a few token prosecutions.
Under the (IMHO) inept, UK-hating Director of Public Prosecutions, Alison Saunders, any white Brit expressing any views any other person finds 'hostile' can be prosecuted for a supposed 'hate crime'. But preachers from our favourite religion are allowed to go on spouting their hate-filled bile week after week and the police and authorities do absolutely nothing.
When a Brit leaves a bacon sandwich on the steps of a mosque, that's a 'hate crime'. When one of our friends from the ROPP blows up children and teenagers at a Manchester concert, the police and authorities claim there is no evidence that this was a 'hate crime'.
We Brits are subject to British law and cannot claim any exemptions. But there are at least 30 Sharia courts operating in the UK. These should be illegal as the testimony of a woman is worth less than the testimony of a man. This means Sharia courts are guilty of sex discrimination. Plus they undermine British law. But you won't hear the libtards and feminists protesting about Sharia courts and you won't see the authorities acting to close them down.
Clitorises away!
I'm no expert on female anatomy, though I am always trying to improve my knowledge. So, for people like me, here's a guide to the female vagina: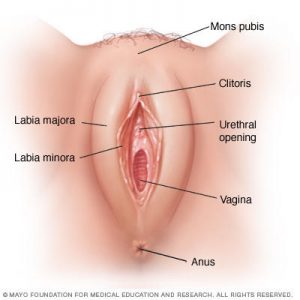 And apparently when you get your clitoris chopped off, you're not going to have much fun having sex. Like wearing Darth Vader outfits and Sharia Courts, this is just another medieval practice enforcing male domination over women. But, of course, nobody ever thought about enforcing our laws against this barbarity.
And here are some ladies talking about the joys of having their bits cut off: