A few weeks ago, BBC journalists were creaming their knickers in delight at a new UN report which revealed that last year's CO2 levels were higher than they'd been for at least the past three million years.
Global levels of CO2 reached over 403 parts per million in 2016 and, as usual, BBC 'experts' blethered and moaned about the need to curb climate change before humanity causes its own extinction.
The BBC also made much of the World Meteorological Organization's (WMO) claims that the last time in Earth's history that CO2 concentrations were so high – about 3 million years ago – the entire Earth was around three degrees warmer, and sea levels were up to 20 metres higher than they are currently.
And, of course, we got the usual apocalyptic warnings: "Without rapid cuts in CO2 and other greenhouse gas emissions, we will be heading for dangerous temperature increases by the end of this century, well above the target set by the Paris climate change agreement," WMO Secretary-General Petteri Taalas. "Future generations will inherit a much more inhospitable planet."
But unlike slavering BBC supposed 'journalists' let's apply a little analysis to the latest report. If we do, we can note three things:
CO2 levels have previously reached today's levels – about 3 million years ago – long before the industrial revolution and long before the BBC had so many 'experts' to warn us about our imminent self-destruction. So, today's rise in CO2 while rapid, has taken CO2 to levels that have been seen before in the Earth's history and probably will be reached again
Last time CO2 reached current levels, sea levels were around 20 metres higher than they are currently. Ooops, if CO2 is 'causing rising sea levels', why are sea levels not approaching where they were 3 million years ago? In fact, as the Earth warms (either as part of a natural cycle or because of human activity – take your pick) sea levels are rising at around 3.2 mm a year. So at current rates of sea level rise, we've got a fair way to go before we get back to the 20 metres of 3 million years ago
The BBC and others of their ilk also always 'forget' to mention that CO2 has a fertilising effect and that increasing CO2 levels have been proven to increase plant growth leading to a 'greening' of some areas that were previously barren and increased food production in more fertile areas. The BBC doesn't dare mention that increased CO2 can have positive as well as negative effects as that would totally destroy their party line that everything man does is destructive to the environment
And let us not forget that the same institutes and other scientific bodies that are screaming about supposed 'Man-Made Global Warming' are the very same organisations that were warning us in the 1970s about an impending new Ice Age: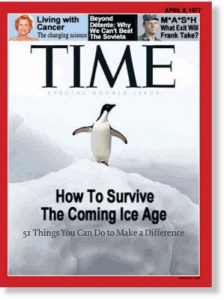 This new Ice Age would wipe out agriculture in much of the Northern Hemisphere and lead to millions of deaths from starvation: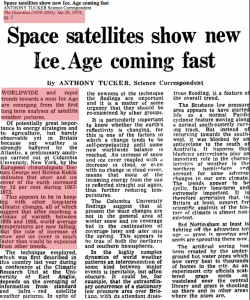 Well, they got that wrong. But if the 'scientists' keep predicting some climatic disaster or other, one day their predictions will be right, just as a broken clock is right twice a day.
Obviously I'm not a 'scientist' in receipt of a generous government grant to prove that Global Warming is due to human activity. All I'm suggesting is that it would be a rather good idea if the BBC applied a little intelligent analysis and balance to the increasingly alarmist and regularly discredited reports of the imminent extinction of the human race rather than hyperventilating every time a supposed 'scientist' decides to issue yet another ever more dire warning to get awarded yet another lucrative research grant.