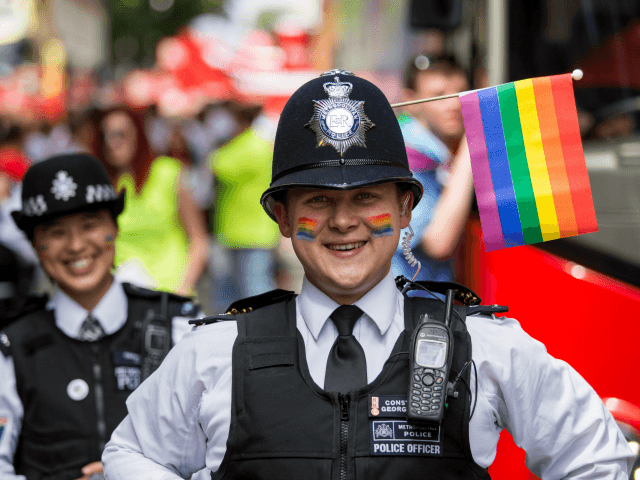 And here are some more showing off their dance moves:
Meanwhile Britain's criminals are also happy and probably dancing in the streets too. Statistics show the number of arrests being made by British police has collapsed — while forces focus increasingly on stupid PR stunts and so-called "hate crime" and "malicious communications".
New Home Office figures reveal that arrests have plunged 12% over the last year, and by a remarkable 48% over the past nine years.
Police arrested some 1.5 million people in the year ending March 2008, but just 779,660 in the year ending March 2017 — despite huge increases in recorded crime.
Total crime has risen by 19% in the year to June 2017, with violent crime up 19%, rape up 22%, knife crime up 26%, and gun crime up by an amazing (in view of  Britain's tough gun ownership laws) 27%.
Acquisitive crimes (e.g. shoplifting, burglary, robbery and theft) are also on the increase — and a suspect is only identified in one burglary out of ten.
Police lay the blame for the sharp drop in arrests on swingeing budget cuts, which have seen police numbers reduced by 20,000 constables to their lowest level since 1985.
The Tories, who have been making cuts, first in conjunction with the Liberal Democrats and then on their own after the end of the 2010-15 coalition, argue the cuts are necessary to reduce the deficit bequeathed to them by the economically-illiterate, financially-incontinent Gordon Brown. But the cuts have been made at a time when the foreign aid budget has shot up from about £7bn a year to over £12bn a year – there's a nice little £5bn+ that could have been used to help pay for more police, more troops and more for the supposedly cash-strapped NHS – and financial contributions to the European Union have also been increasing every year.
But while arrests for real crime have been falling, the British Police have arrested at least 3,395 people for supposedly 'offensive' online comments in just one year – that's almost 10 people a day for comments made on social media in 2016.
The Metropolitan Police have even suggested they will not even bother investigating many so-called "low-level" crimes such as shoplifting and vandalism anymore as it is "not practical" in a time of cutbacks — while boasting of having more than 900 specialist officers dedicated to "hate crime" investigations:
We have 900+ specialist officers across London dedicated to investigating all hate crime. For more info visit https://www.met.police.uk/advice-and-information/hate-crime/ … #NHCAW
Arrests for supposedly offensive comments were up by 53% in London — now more dangerous than New York City, where police numbers are roughly comparable to London — and by an extraordinary 877% in the West Midlands.
Meanwhile our police continue painting their nails to show solidarity with some group or other and wasting money on making stupid videos and other pointless publicity stunts:
Actually, I suspect that most ordinary police are decent people who are as disgusted with their career-obsessed bosses' fawning political correctness as the rest of us. And I further believe that most police would rather be out dealing with real criminals than chasing after supposed 'hate crimes'.
But as real police retire or leave and a new generation of feminised, politically-correct, emasculated fools take their place, we risk ending up with a police force that is about as useful as a eunuch in a harem.
No doubt our useless police bosses will soon be ordering their minions to start arresting anyone who dares criticise the police?